Top 5 Benefits of Using Camellia Oil for Hair Care
Hair enthusiasts will tell you that you just cannot go wrong when it comes to Japanese Camellia oil. Born from Camellia Japonica trees in Japan, Camellia oil is considered to be the top of the line thanks to its numerous benefits. Although this oil best known for its ability to moisturize skin, prevent acne and act as an anti-aging ingredient, Camellia oil is also ideal for hair care.
Why do you need it?
With so many different hair oils on the market it's no wonder people are confused. All essential oils have great pros and cons but as far as Camellia oil is concerned I really couldn't find any cons. The thing I love the most about this oil is it's extremely light weight on the hair. I have been using it for well over 2 years and it has changed the condition of hair not to mention the length. I can apply it daily and my hair doesn't feel greasy or weighted down. It's works great with other hair oils and it a great as a hot oil treat. I created a blend of essential oils featuring Camellia oil to help grow the hair as well at Chimere Nicole Beauty.com 
 Camellia Oil Benefits
1. Camellia Oil Moisturizes Hair
Camellia oil penetrates the hair structure and infuses hydration. This ability makes Camellia oil a favorite for those suffering from dry hair. It can rejuvenate hair and further prevent the loss of protein. Camellia oil is useful as a hot oil treatment, a component of a leave-in-conditioner regimen or as a pre-poo conditioner for hair hydration.
2. Camellia Oil Prevents Split Ends
It has the ability to restore moisture also assists in protecting hair for extra dryness and split ends. The oil gives hair flexibility, guarding it against blow dry damage and brittleness that may accompany friction caused by brushing or excessive manipulation of hair. For someone who is currently suffering from split ends, Camellia oil may be useful as an overnight treatment regimen.  Looking for a triple threat solution that can yield greater results? Consider adding it to coconut oil and argan oil for enhanced results.
3. Camellia Oil Gives Hair a Healthy Shin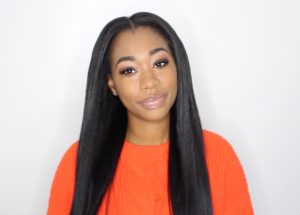 It will boost shine, giving hair a look of health and vibrancy. If hair is looking dry, consider using this oil restore brilliance. Unlike other oils that sometimes sit atop of the hair, Camellia oil penetrates the hair, which enables it to be a light, non-greasy formula, leaving hair smooth and shiny.
4. Camellia Oil Improves Hair Manageability
Are you tired of fighting frizz and tangles? Camellia oil can assist in making hair more manageable. It softens hair, decreases frizzy hair and reduces tangles with the smallest bit of application. The ability of Camellia oil to detangle hair makes it a fantastic solution for removing tangles that may occur in thick or naturally curly hair as well as fine hair following shampoo and conditioning activities. The excellent news is that a little bit goes a long way. You do not need to use a significant amount of this solution to see great results!
5. Ideal for Sensitive Scalps
Do you have a sensitive scalp? If so, Camellia oil just might be the oil for you. Camellia oil works especially well for those with sensitive scalps. Users report that despite having a scalp that is easily irritated by other oils or solutions, their sensitive scalp responds well to this oil which enables their hair to enjoy all the perks of Camellia oil. It is important to note that some users with nut or environmental allergies, do report having an allergic reaction so, take caution in using Camellia oil if you are one who suffers from a nut or environmental allergy.
Where Can You Get It?
These are just the top five reasons to use Camellia oil on your hair and scalp. For the best results, consider using a small amount (dime size) daily. I recommend using Chimere Nicole Beauty Hydrating Oil since it has a high concentration of Camellia oil. This blend of oils will not only help to hydrate the hair but will seal the hair cuticle for shiny, frizz free hair.