I am by no means a food blogger. In fact, I'm the last person to give out food advice since I am as picky as can be. However, I have become fascinated with luxurious brunches, fabulous charcuterie spreads, and staying on a budget. One night I spent hours on Pinterest trying to learn how to create the perfect presentation that was not only picture worthy but good enough to eat. I didn't want to invest in foods that I knew I would not eat just because they look aesthetically pleasing. Honestly, I was not in the mood to waste my money just for pictures. I don't waste food, EVER. So creating a charcuterie board on a budget was my goal.
 Wanting to spend the day by the water alone, just to relax and refocus for the week ahead a solo picnic was the best option. I could be as extra and boogie as I liked and relax at the same time. This is the recipe for a perfect afternoon. Deciding this would be the perfect opportunity to create my first charcuterie board and keep my budget as low as possible. I decided to stick to a budget of no more than $20, that would include everything I needed for my picnic.
I took a trip to my local Aldi grocery store and picked up everything I needed. Aldi has some great options for an affordable price and amazing quality. I kept my list pretty simple since quite frankly I didn't have a clue what to buy and what I was doing. Here are the items I choose to include for my picnic.
Water
Wine
Bread
Cheese
Nuts 
Fruits
Deli meats
Crackers
Once I created a shopping list, it was easy shopping. If I would have done this beforehand instead of in the store it would have been a lot faster. I spent way too much time trying to decide what cheese I wanted to use. Aldi had tons of options to choose from and since I'm not much of a cheese connoisseur I kept is basic. Cheddar cheese has always worked for me so that's what I grabbed. Although I love to eat, I can be very picky at times, so it's best for me to stick to the safest options available. But I was so tempted to try the spreadable cheese options they had available. 
Aldi's has the cutest variety pack of crackers to try near the bread aisle and picked that up for only $3.99 and I love them. It features 6 different types of crackers and was great to pair with the cheese. I will definitely purchase this again and a few more cheeses to try. In fact I grabbed some just last night with some wine and cheese. So good for a late night snack and the wine didn't hurt either.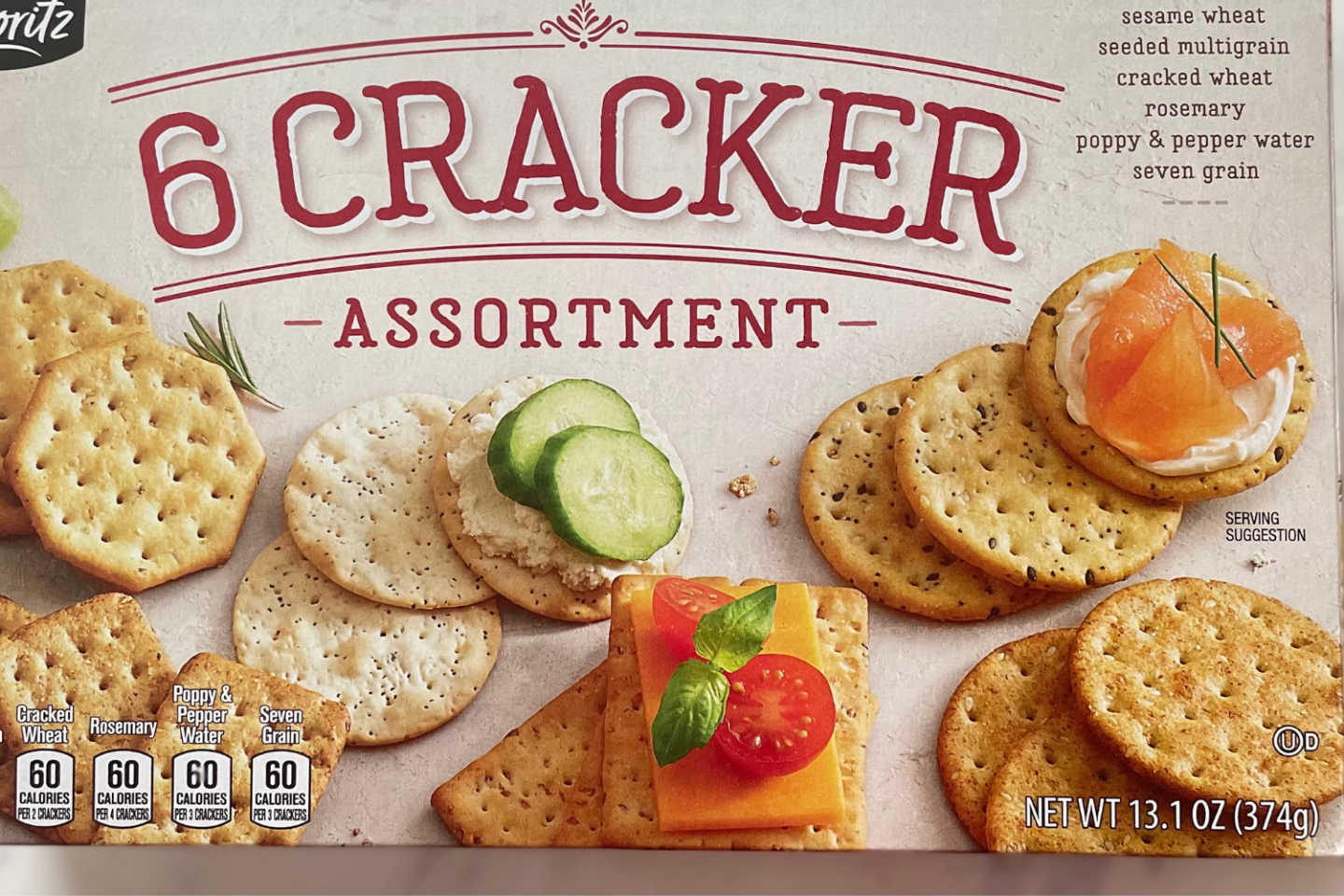 Now onto the aesthetics. This was by far the most tedious part of this whole process. Again, I had absolutely no idea what I was doing. My goal was for my board to be as aesthetically pleasing as possible using minimum items. If you searched Pinterest before you have seen the amazing options and tons of exotic fruits and jam people use. I'm not that advanced yet so until then I keep it basic.
I found a way to make the deli meat the star of the show. I went onto YouTube and found a video tutorial of different ways to display the meat. One video showed me how to make flowers using salami so that's what I decided to do. Starting by placing the salami in multiple sections on top of a glass cup. Once you've created multiple layers you then turn the cup upside down and remove the meat from the cup. You are then left with a perfectly flower.
This was so easy to make and it was a beautiful addition to my display. Definitely will be trying this technique again using different types of deli meats. I had tons of leftover fruit since I purchased it in bulk so my children were extremely happy to have tons of strawberries and grapes in the house. I even decided to get fancy with the cheddar cheese and use my cookie cutter to make a Mickey Mouse cheese slice. It was so cute and made me extremely happy. 
Once I finished prepping I then packaged everything up in small Ziploc bags to transport. Once I found a nice location near the water, I laid out my blanket and pillows and decided to get to work. It was actually quite soothing to do near the water. I think it was the waves that calmed my nerves and was overall very soothing. Next time I'll take a bit more photos however this was my first time trying this and I didn't want to document the bloopers lol.