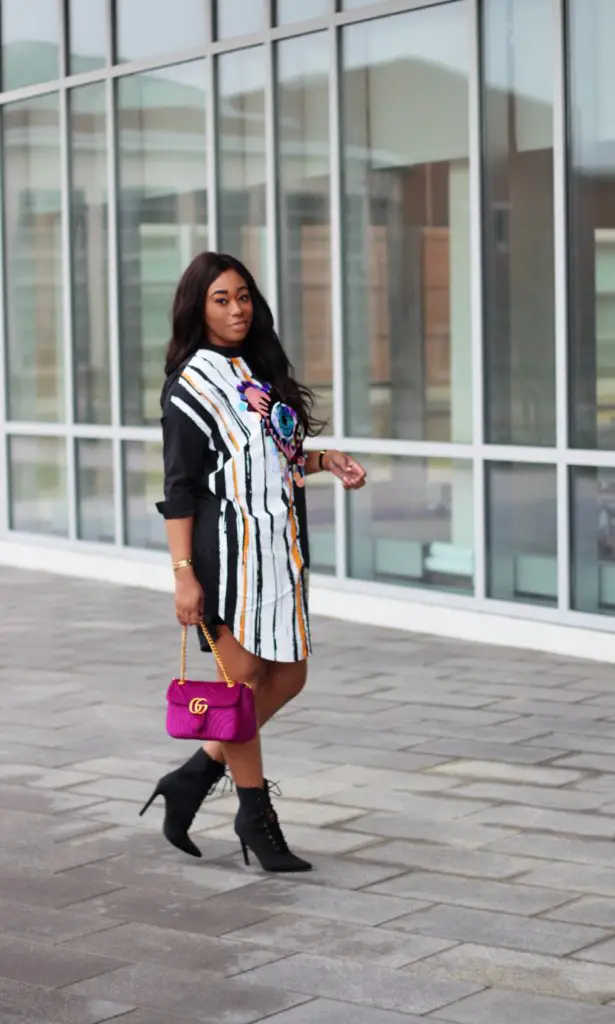 Five Ways to Wear an Oversized Shirt Dress
Oversized shirt dresses are an item everyone should have in their wardrobe. They provide the perfect amount of comfort and can be styled in varies ways. The thing I adore about this trend is that no matter what pattern or print your oversized dress is you can wear it say or night. For today's post, I decided to keep my oversized shirt dress as casual as I possibly could. I really wasn't in the mood for sneakers or flats with this look so I decided to add a simple bootie and keep it light on the accessories. My oversized shirt dress is from ClosetSheIn.com. I am wearing the Glitter Eye Sequin Shirt Dress in size medium. This dress is very light weight and I got tons of complements while wearing it. Below I have my top five ways to wear an oversized shirt dress.
Add a flattering shoe.
The type of foot wear you choose will make or break any outfit. When where it with an oversized shirt dress it must help to flatter the silhouette. So, if your short the perfect heel can lengthen your frame. If the oversized shirt dress is casual a cute pair of sneakers might do the trick. Pair your oversized shirt dress with the right shoe and the look will be complete.
A belt goes a long way.
I spoke previously about the perfect silhouette and belts help to give the illusion of such. I am a curvy woman and sometimes anything oversized can make me look wider. When I add a belt to the look it helps to accentuate my covers verses hiding them. Also, if your oversized shirt dress is kind of boring or plain, adding a belt can really give the look more flavor especially if the belt has color of colorful hardware.
Accessories are key.
As mentioned, a belt can really transform the look. But what about other accessories? How about a really fun handbag or a large necklace. Key to any look is how you add your personal touch of flair and accessories do just that. My favorite way to do this is jewelry. A large statement necklace looks amazing on oversized clothing. If you want to keep it simple a cute ring and bracelet set can also do the trick.
Layering helps… a lot.
What would a girl do without an extra layer of clothes? I truly don't know, and since we always need options this is the perfect way to get them. Adding multiple layers to an oversized shirt dress gives the look dimension. By adding layers, you can play with textures and prints to change the overall look of the outfit. Think about adding some faux fur or leather. Even a jean jacket goes a long way. This all helps to give the outfit shape fluency.
Don't let the shirt wear you.
Oversized means bigger than a typical dress and that can often seem like a challenging thing to pull off. Friendly advice, wear with confidence. I always say to myself, if I don't feel confident in an outfit I won't wear it well. This is the same advice I would like to leave with you today. No matter how stylish of a look you have you have to feel confident in it. Comfort it key, and confidence is the lock that hold it together. Make sure that when you wear an oversized shirt dress you feel good in it.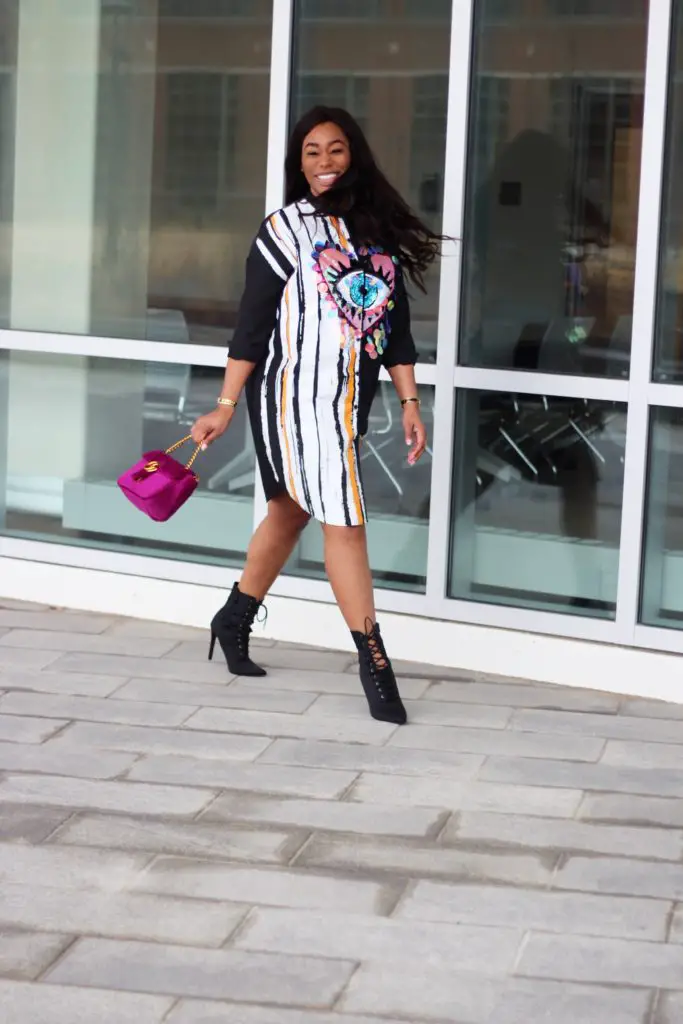 Outfit Details:
Dress: ClosetSheIn/Shoes: Steve Madden/Handbag: Gucci/Hair: GlamDollBeauty