Let's hop into it without all the fluffy stuff, shall we? One thing I need you all to know beforehand is that I've had my blog for years. I mean years, however, I never set out to monetize it because I've always felt as though it was a place to share my beauty, fashion, and lifestyle tips. Almost like an open diary for my friends to read. That changed over the pandemic and I wanted to monetize and grow my blog. With all of my hard work over the years, it was time to capitalize off of it but I didn't know where to start.
 I decided to do a writing challenge to help grow my blog in 30 days. This challenge was meant to help me grow creatively as well as push me past my own boundaries and limitation. I haven't written that much since college and quite frankly I was a bit rusty. Over those next 30 days, I would receive more than 10,000 page views and a new strategy that got me results.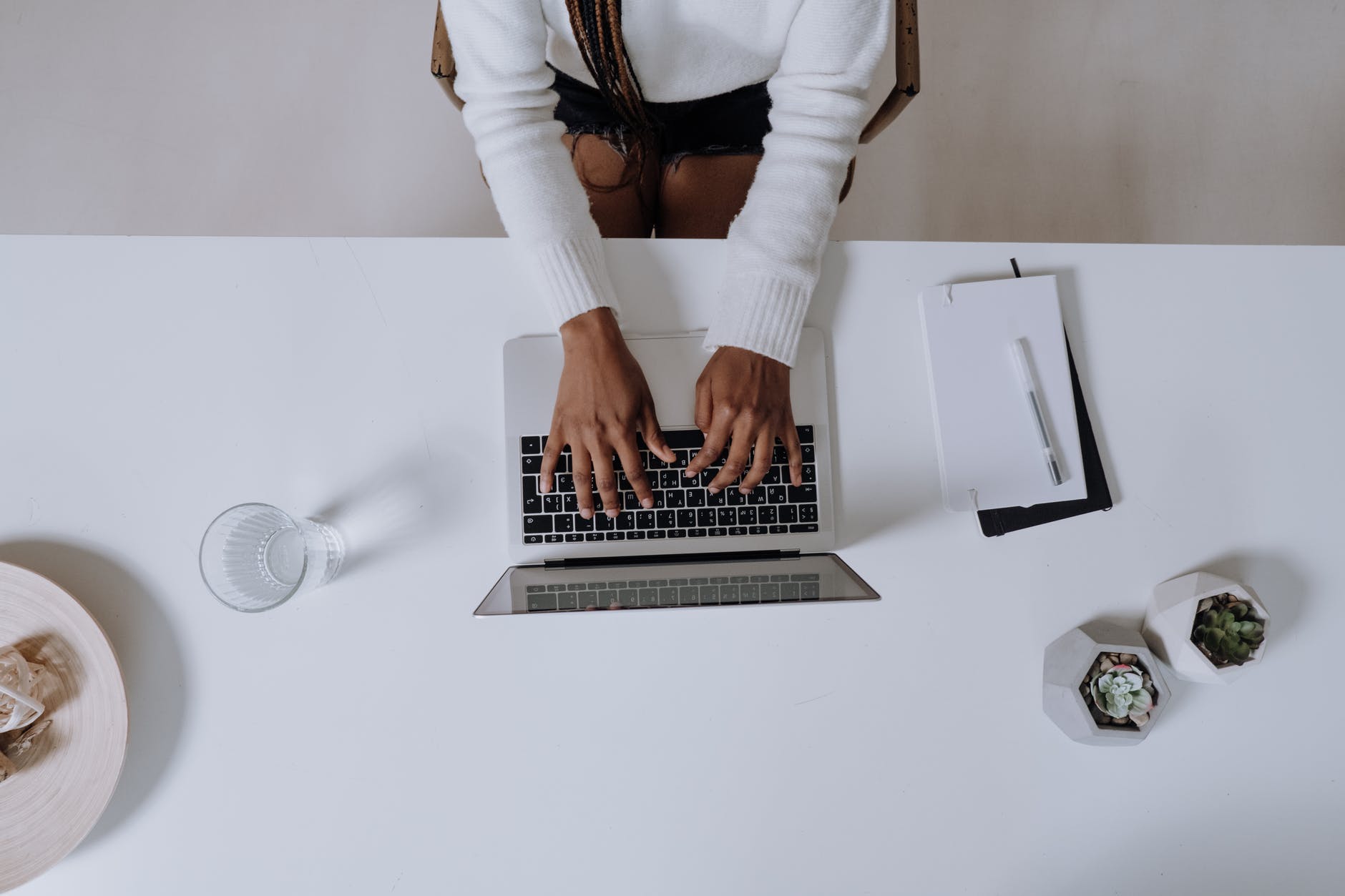 Here's what I did.
Let's Plan
I started by creating a monthly blogging content calendar. Nothing fancy, I just used a Google calendar and color-coordinated my content for my blog and YouTube channel. This helped me stay consistent and know when things were scheduled to go live. Planning ahead and scheduling blog posts was essential because my schedule is pretty hectic. The more I can do beforehand the better. 
Once I planned out all the articles I wanted to write for the month and when they were scheduled to go live I would get to work creating the content. Essentially I created deadlines for the week to keep me accountable. 
Seeing all that red on my calendar helped me stay the course and was so fulfilling once the blog post was live. I was being consistent and getting results. This is still a strategy I use today for my post.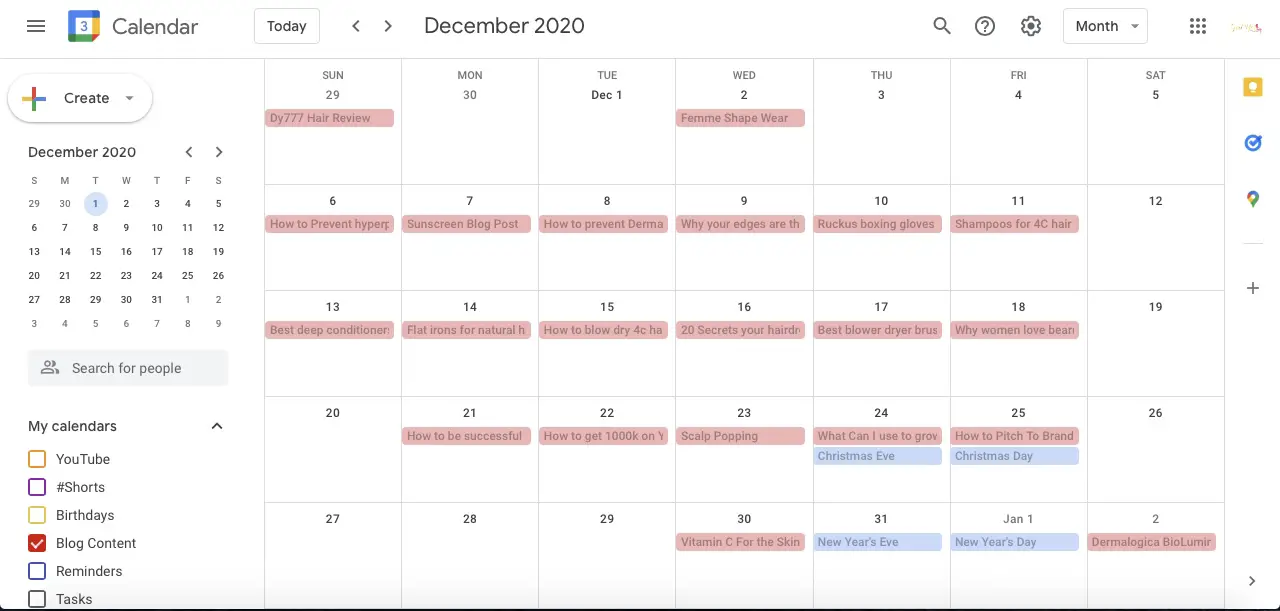 How Often Did I Post
For the month of December, I posted 5 times a week on my blog. Monday through Friday one blog post went live. There were a few times I had a post go live on Sunday due to work but overall I posted during the weekday.  I was running a tight ship but I wanted and needed to see results. Desperate times called for desperate measures and this gave me the push I needed. I scheduled for my blog post to go live at 7 am each day and would also schedule a post on my Facebook and Instagram pages to get any additional traffic to my blog. 
My Biggest Secret
As I mentioned I am a beauty, fashion, and lifestyle blogger. But over the course of my 30-day challenge, I changed the way in which I delivered my content. 
Before, I would be sharing as if I was talking to one of my girlfriends about the latest mascara or fashion trend. During this challenge, I focused on content that was beneficial to everyone and would be for years to come. 
I created all EVERGREEN content. Evergreen content is information that will be usual not only for today but 3-10 years down the line. Here is an example on my blog. I wanted to share as much useful information as I could while still staying true to the things that I loved. Since the information I was giving was usual it would allow readers to bookmark the pages, screenshot, and come back to read more of my content. 
THIS WAS THE GAME-CHANGER.
DO THIS NOW
If you happen to have old content on your blog that you love, repurpose it. There were some days I just was downright tired of writing. I mean 5 articles a week plus work and kids, No ma'am. So I decided to work smarter not harder. I went back and looked over some of my older blog posts that I loved that didn't get the views or traffic I wanted and started to rebuild. I would add more valuable information to them, update the pictures and repost them. Adding a little razzle-dazzle to older content was a lifesaver. I wanted to grow my blog but not start from scratch.
The goal of any blog should be to give the reader useful information or at least be entertaining. The more you can help solve a problem the more traffic your blog will receive. 
The hardest lesson I had to learn as a blogger is, unfortunately, the reader doesn't care about YOU.
Sorry to break it to you in those terms but it's true. I mean they care about you as a human being, however, when they are looking for information they don't care about your dog and how cute she is. They are looking for information. 
When you keep this in mind while writing it will help you keep the mindset of how you can add as much value to them as possible. This helped with my content delivery as well as what I shared on my blog. Again, game-changer. 
You want blog traffic fast, do this now
Get on Pinterest, simple as that. Let me preference this by saying I was not the biggest fan in the beginning. Creating pins and getting the sizing right was stressful. Especially in the beginning. I was over it, so I stopped trying to figure it and invested in myself. I hopped my little butt right over to Etsy and found another content creator who specialized in pins and purchased a few templates. 
Guess what, it was cheaper than buying Starbucks!
Creating pins really did stress me out and I knew that in order to get traffic fast I needed to maximize my time on social media and focus primarily on Pinterest. You don't have to purchase templates. Canva has free resources available to create your own but as I said that was not my ministry honey. I needed this process to be as stress-free as possible. 
The templates were easy to use. I would just customize the wording and pictures and boom! I was able to create pins in seconds. The template I purchased came with 50 different style pins to choose from. This made creating 5-7 pins per post so much easier for me versus trying to do it from scratch. It also helps with branding for my blog because my pins are consistent in size and color.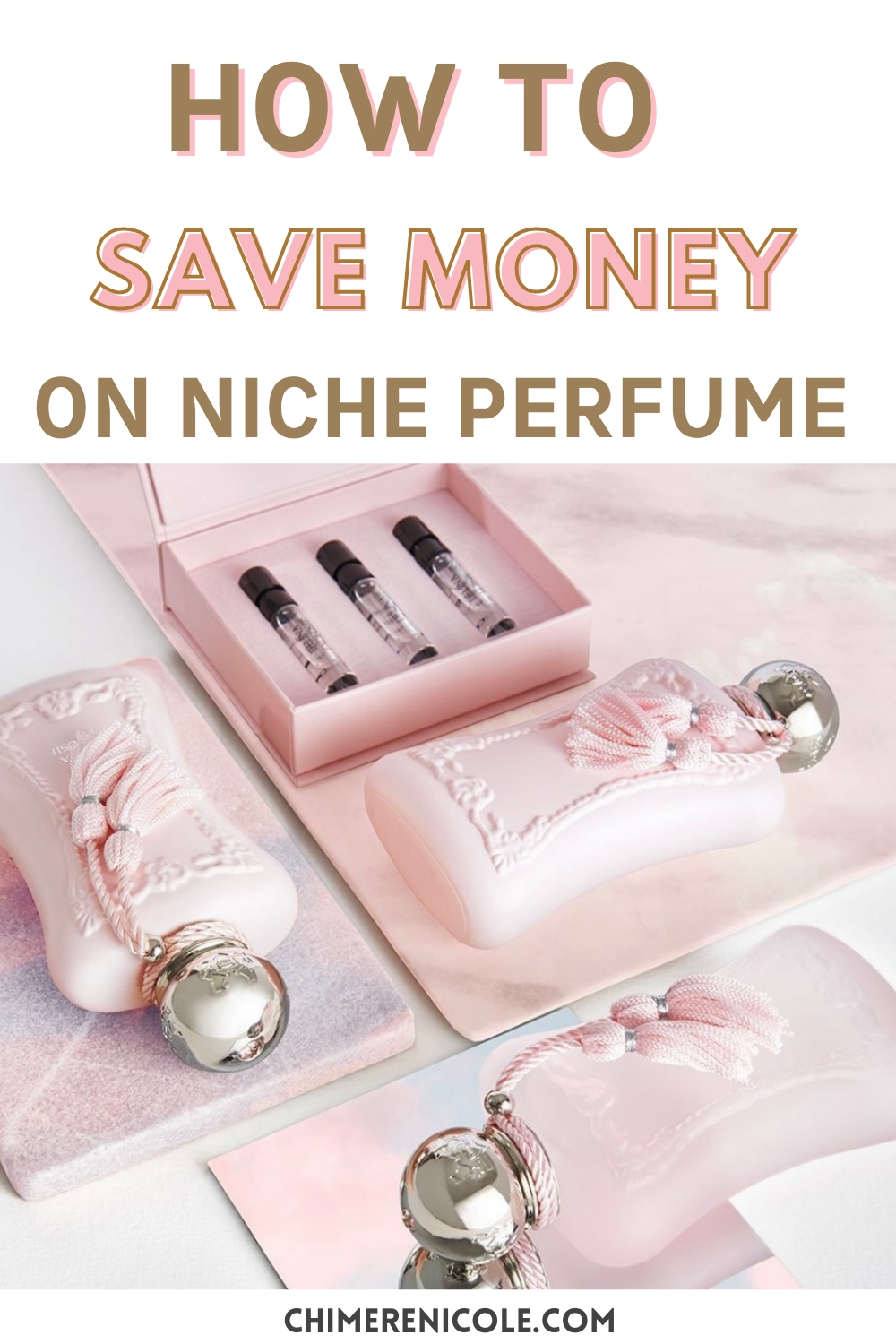 My Pinterest Schedule
My method was creating 5-7 pins per blog post. I would schedule two pins to go live on the same day as the blog post and the others during the remainder of the month. I focused on my pins just as much as the content I was creating because the pins are going to get the readers to your blog. The more attractive your pins are the more opportunities you have for someone to view your content. 
Of all the social media platforms I have, none of them have given me more traffic than Pinterest. 
It is the only site designed for someone to leave the platform in order to view other content, so my suggestion is to master it. NOW!
Although I love Instagram and Facebook, it doesn't get people to convert as much as Pinterest. At this point, I have even taken pictures from my Instagram and reposted them on Pinterest to drive traffic. And it works. Cute outfit, post it. Beautiful lunch, post it.  
With this, please don't spam the site. Remember, you want to add value. Just posting because you took a picture of a bowl of spaghetti isn't gonna cut it. Tell them about the restaurant, the location, the beautiful views for pictures. ADD VALUE. 
Be informative and the traffic will come.  
I want to leave you with this, although my results are typical they are attainable. You can also surpass my results. I know some bloggers who post multiple times a day. And are able to get this type of traffic for one blog post, however, this would be very useful for a new blogger or even someone like myself who needs a challenge. 
The key is to be consistent. I truly believe me posting consistently was what drove the most traffic to my blog as well as the type of content I was sharing. If you have a niche-specific website, sharing content that is seasonal or relevant to your niche will also play a role in your blog traffic. Just remember, your blog is not about you, it's about the reader. 
Start to implement these strategies on your blog today. and watch the traffic pour in.