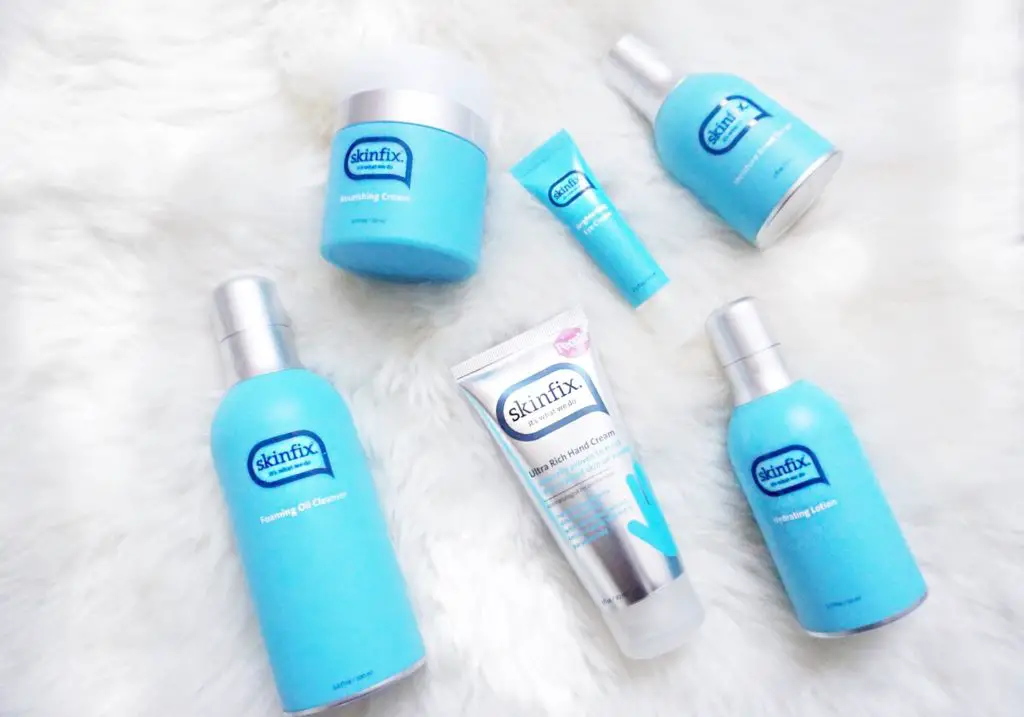 As a beauty and fashion blogger I often times have an abundance of products in my collection at any given time. Some products are often over looked and other times just don't make the cut. I love testing out new brands and seeing the effects of new ingredients and products. Today I am going to share with you a new line of skin care products I was fortunate enough to receive. Note: This is not a sponsored post and honey if I don't like something I just won't share it on my blog. Unless it's horrible and I need to warn you lol. Now, over the last 2-3 weeks I have been testing out the entire skin care line but Skinfix. I learned about the brand from a beauty conference I attended and was curious about the brand. I received the products I immediately began to test them out. Today I'm going to give you a complete break down of the entire line of products I received and my opinion on each product.
Skinfix Foaming Oil Cleanser 
This face wash has become a morning staple in my skin regime. This face wash is not only great at cleansing my skin but it doesn't leave my skin dry. Also one thing I need to note that I love about this product line is that it tells you on the packaging the percentage of all natural ingredients which I love. This face wash is 97% all natural. If I had to recommend only one product for all skin types it would be this face wash. It also removes makeup really well and does not a strong smell.
Skinfix Moisture Boost Serum 
I haven't been much of a serum girl. I recently started adding them to my skin care routine since I noticed great results with this one. I only tested this serum for 2 weeks but I used it morning and night. The most noticeable results I've found were my skin becoming more radient and plump in texture. I would see the best results in the morning. My skin looked refreshed and hydrated. After the 2 weeks of testing were finished, I've been using the serum in the morning after cleansing with the foaming cleanser.
Skinfix Brightening Eye Cream 
This product for me wasn't a wow product for me. Now I may not be the best person at the moment to test eye cream. But I did test it for the 2 week like all the other products. I don't really have any issues with my under eyes except the occasional under eye Chanel bags from lack of sleep. However, I did notice a little tightening when using this product. That's always a great thing as the goal is to keep the skin from sagging and wrinkle free.
Skinfix Hydrating Lotion 
Another brand favorite, this hydrating lotion is perfect under makeup. This is also another product I have added to my morning routine. I apply immediately following cleansing with the foam cleanser. It's wonderful because it doesn't contain oils to clog my pores and keep my skin smooth. This lotion is 97% all natural and did not irritate my skin at all.
Skinfix Nourishing Cream 
I incorporated this cream at night after my cleansing my skin. Typically I use heavy cream moisturizers at night because I wear makeup all day. Once I remove the makeup I cleanse twice, exfoliate, apply serum and then moisturize. This cream is a light in consistency and can be worn under makeup as well. It's 97.5% all natural and that's what makes this brand stand out among the rest.
Skinfix Hand Cream 
I have this hand cream everywhere! I have it on my desk, the car, my purse, and even my gym bag. I have become manic about my hands staying moisturized and soft. It's a ultra rich formula but not greasy which I love. There's nothing worse than applying hand cream then touching paper and leaving a oil spot. My hands remain moisturized hours after applying and smells great also. I would definitely  recommend this hand cream for anyone who washes there hands as many times as I do during the day.




Overall, this line is great for normal and sensitive skin types. I had great results testing these products and I hope this break down of the Skinfix products helped answered any questions you had regarding the line. I had a chance to look over there Instagram account and noticed they have a wide arrangement of products for all skin types. You can get more on Skinfix by visiting there website here.