I love a good overcoat. Especially one with color. The problem is how many ways can you style it. For many years red has been my favorite color so it wasn't unusual for me to purchase red everything for my wardrobe. A red overcoat is striking and eye-catching but finding new and innovative ways to wear your coat can be challenging. I wanted to share with you a few ways I've found to wear a bold red coat as well as some of my favorite style bloggers. I'm also going to share with you some inexpensive options to add to your wardrobe this season.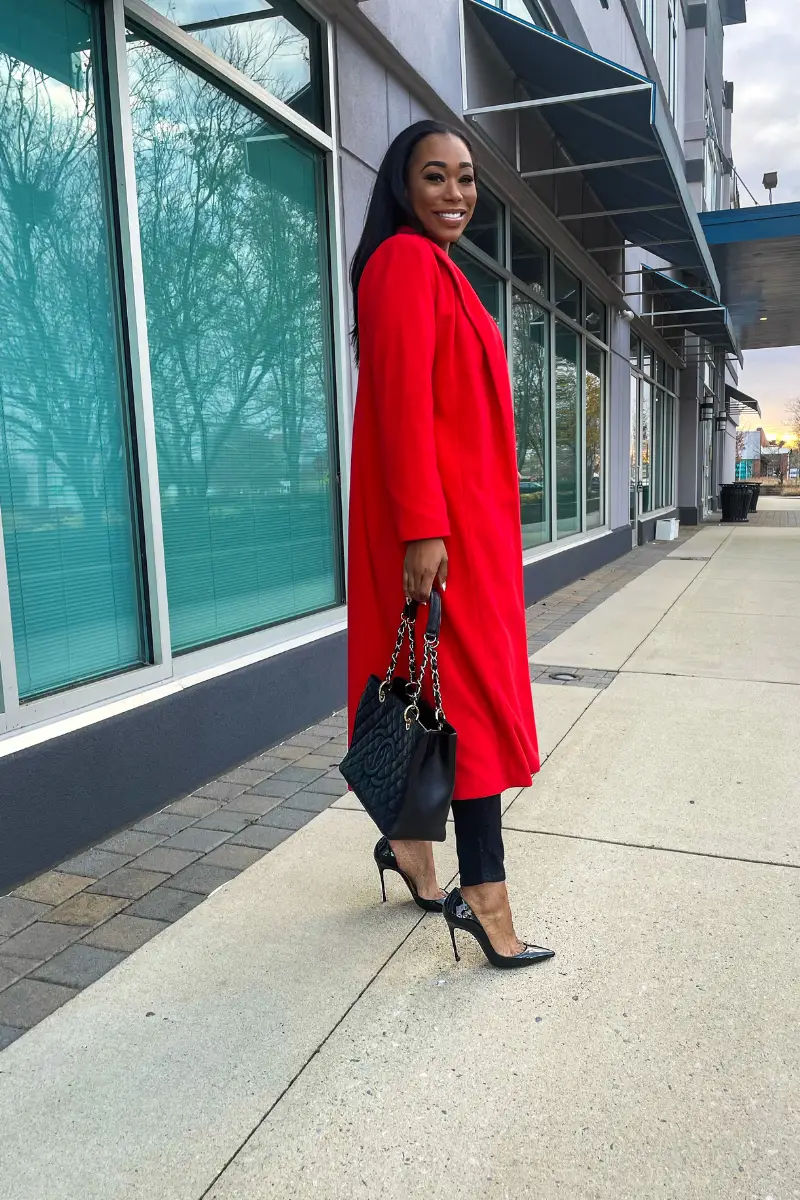 Black Out
If you've searched online you are likely to see a red coat paired with black. I mean it's the perfect combination. Black dress pants, a little black dress, and even black with sequin. The options are endless. Did I mention this is the number one wardrobe look for the holidays? Next time you're at that office holiday party or walking downtown during the holidays take a look at all the brightly colored red coats you see. They look is so festive and fun, no wonder you see it all over the internet.
 I styled this look with a pair of my favorite black jeans and a long-sleeve knit shirt. To add another pop of red I paired the look with my favorite pair of red pumps. Can you believe I scored this coat for under $50? Because the look is so effortless and chic you can add any accessory you wish. A hat, colorful handbag, gloves, I can go on and on. 
Denim Down
Another great way to style your overcoat would be to add denim from top to bottom. I happen to love this option as it gives you so many ways to accessorize the look. You can add construct or combat boots and even snakeskin. How about your favorite pair of flats? I am a high-heeled type of woman so a cute open-toe heel or ankle bootie would be fabulous. And because there are so many washes of denim you can dress the look up or down. My favorite wash happens to be dark demin for its slimming effect. Also, consider the style of jeans you choose. Wide leg, skinny leg, or boyfriend jeans, again you can completely change up the look.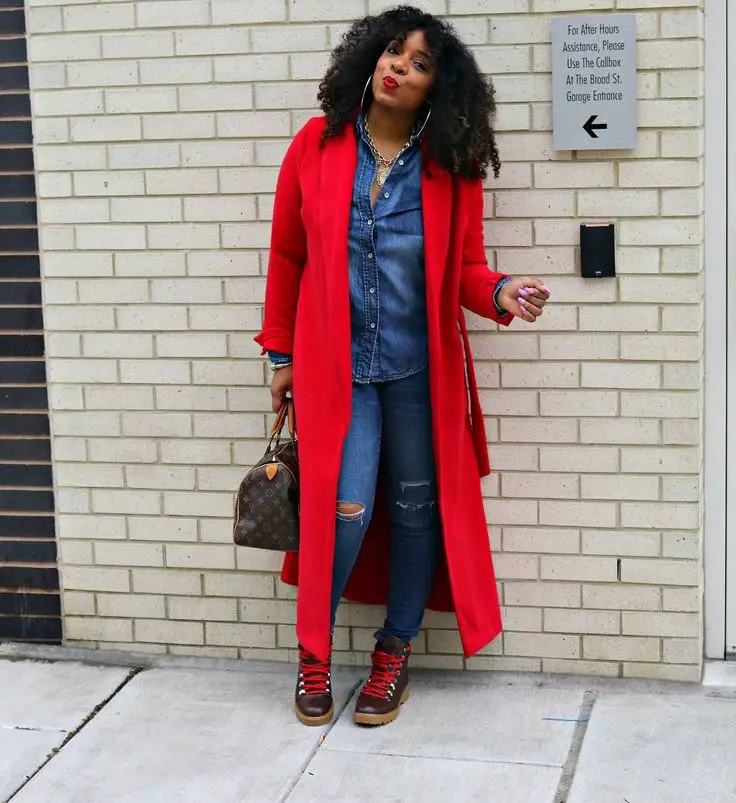 Animal Print
I don't care what anyone says, animal print will always be on-trend. As long as we have different animals to choose from, the prints will be here to stay. If you're feeling spicy add some animal print to your red overcoat outfit. It will elevate the look from conservative to wild and flirty in seconds. One of the ways I've incorporated animal print into my look has been in my shoes. I have a few pairs of animal print shoes in different colors and they are amazing. I've also added printed handbags and clutches. If you're not as daring, think about a scarf to drape over the shoulder or even a belt. Something small that breaks up the look.  You might also like a headband or gloves if the weather permits.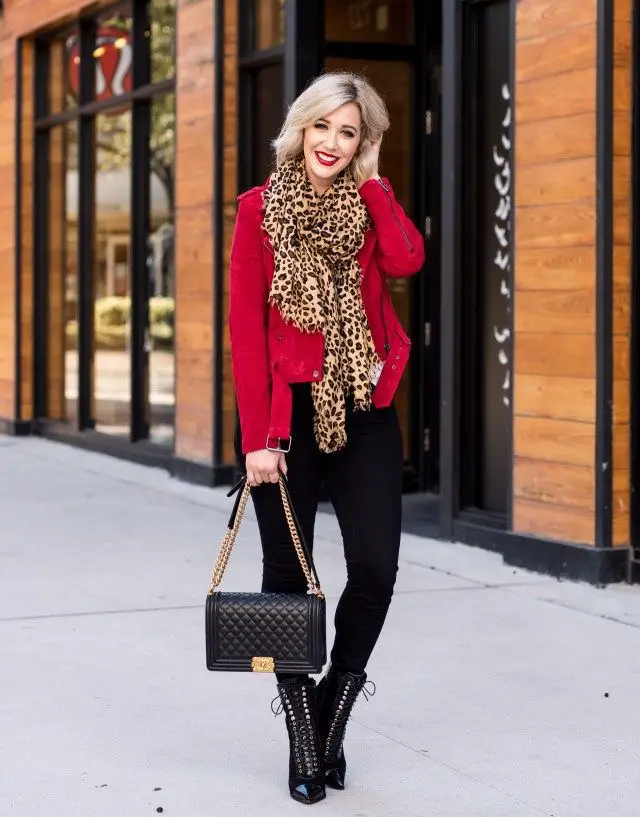 Texture & Leather
Those leather skirts and pants you have in the closet, it's time to pull them out. I am a huge fan of adding a leather skirt and suede boots to my overcoat outfits. I do it every year. Grab a turtleneck, a leather skirt, a pair of tights, and grab that coat. It's so simple and chic. Here is an example of this look using my gray overcoat. As you can see, I love colored coats for the fall and winter. But layering different textures really helps to make any outfit stand out. Think leather and fur, silk and suede. Ugh, I'm getting excited thinking about it.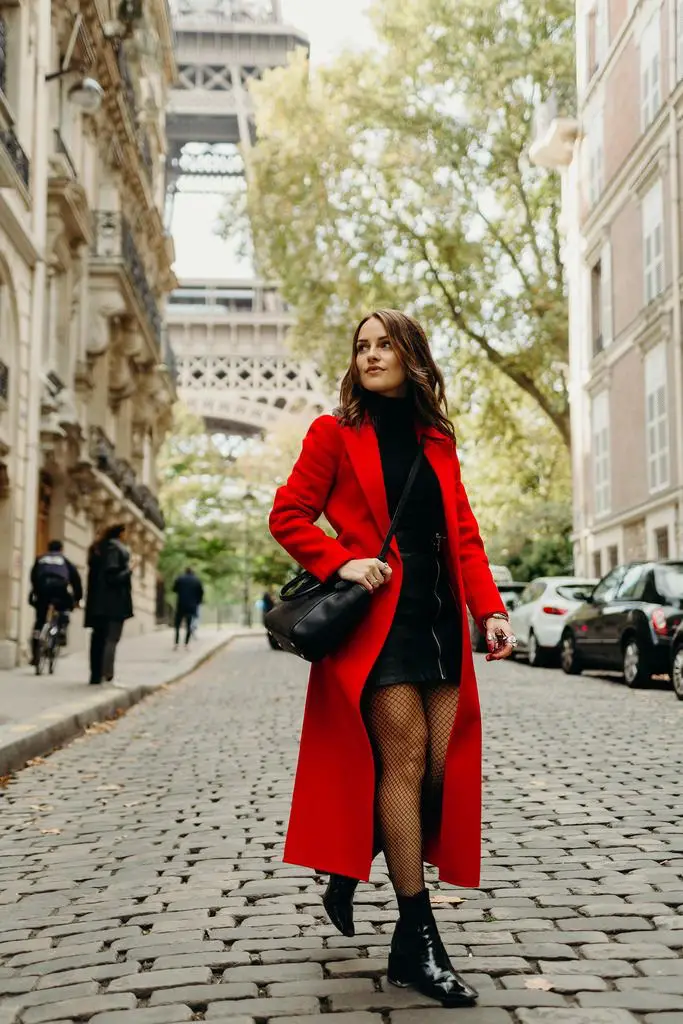 Chunky Scarf 
The most inexpensive way to accessorize a red coat, add a scarf. Trust me, this method can completely change the way your outfit looks. Not only are scarves inexpensive, but it's also an item we all have in our wardrobes. 
Think about it, you want to elevate your current wardrobe or maybe even downsize. It's a great way to take a basic t-shirt, jeans, and color block. Red with a purple scarf or even red and yellow. Color blocking with a scarf can be so much fun. Let's not forget scarves come in a variety of fabrics, lengths, colors, and textures. All of the essentials needed to build a fabulous wardrobe. You can also add a fur scarf. This is something I happen to do very often.  
Red Coats Under $100
I searched all over the internet for the best red overcoats for women. These are of great quality and won't break the bank. I do want to mention one of my favorite style tip, changing the buttons on your jacket and coats can take a coat from basic to expensive in seconds. Remember, quality over quantity, and buttons matter.