I was looking for the perfect travel bag for the summertime. I currently have a large Louis Vuitton tote bag that I use while traveling and for everyday wear. Since I've been using this bag for a very long time and it was time for me to upgrade. Once I came across the new YSL collection and decided it would be the perfect bag not only for me to travel with but also for the summer. Before making the splurge I needed to do a little bit of research before purchasing. Here are a few things I think you should know before making your purchase of the Saint Laurent Canvas Tote.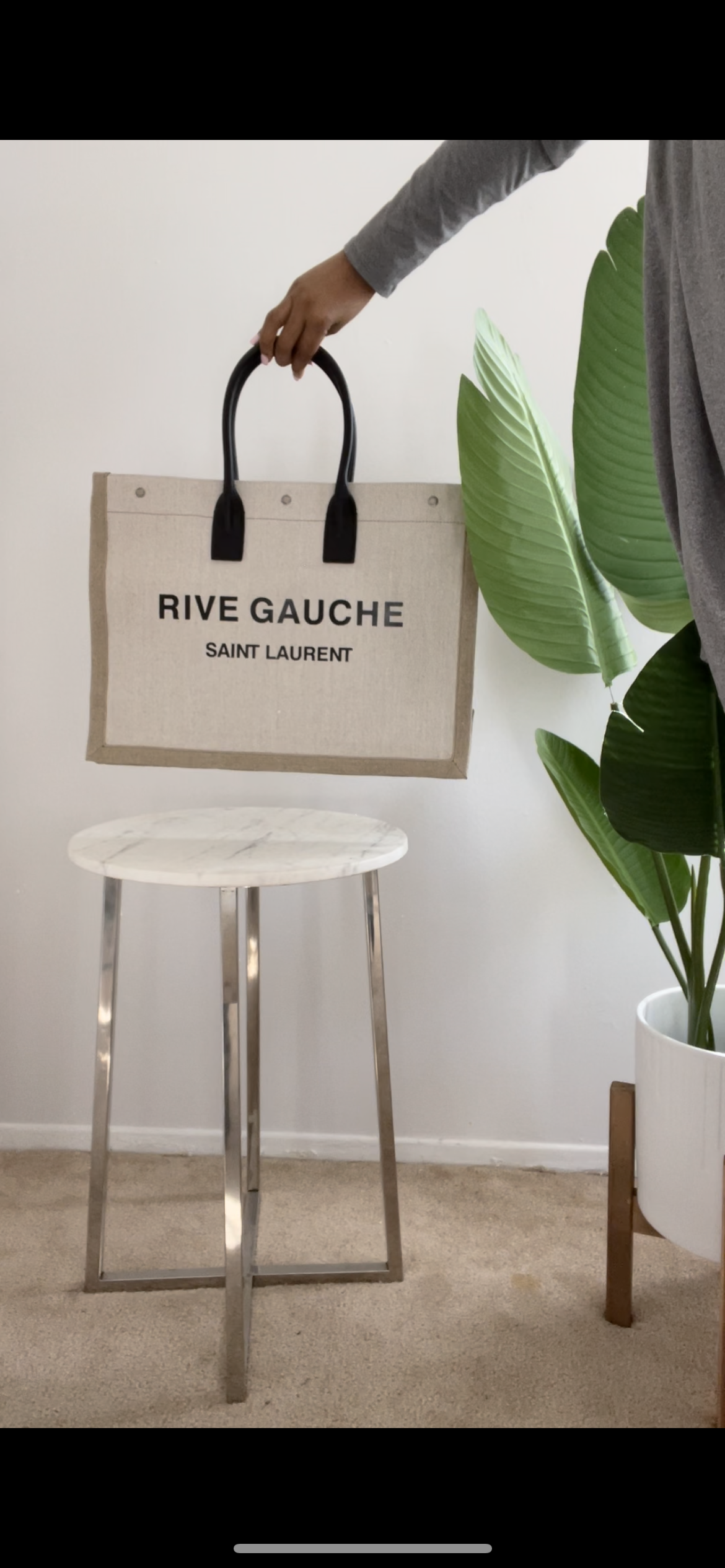 During my recent purchase I took a minute to talk to my sales associate and got some really amazing feedback about the new collection and want to share with you a few things if you were in the market to purchase this tote bag.
Pros
Coated Canvas
At the time of my shopping trip they currently have five different colors available. Upon arriving at the store I immediately fell in love with the army green tote bag. To my surprise this bag did not have the coated canvas. This is very important to note.
Out of the entire collection there is only one tote bag that includes a coated canvas. This is very important because if you are like me and are rough with your handbags it is important to note that the coated canvas. It provides you with an extra layer of protection. A friend of mine also has this tote bag and she told me that when she returned from a traveling trip she needed to clean her tote bag. Because of the coated protective layer, it made cleaning up a lot easier.
To remove stains from your tote bag I would highly recommend you take a magic eraser, lightly wet the area you need to clean and apply your magic eraser. Once that step is complete let your tote bag dry and then your stain will be removed.
Size
The size of the Ysl tote bag is perfect. Since I was planning on using it primarily for travel, I needed it to be large enough to store my laptop, some toiletries, and extra clothes if necessary. This bag has enough room to do just that and more. 
Leather Handles
This tote comes in two handle colors, brown and black. I purchased the black leather handles. This also prevents the back from getting dirty. Makeup, hand creams and more will destroy the handles on any bag. I would also recommend adding cute silk scarves wrapped around the handles for a pop of color and added protection. I've even taken charmes from my other handbags and added them to this bag. Just to jazz it up a bit. You have a ton of options. 
The Snap Closures
One of the other highlights to this bag. Most tote bags are designed to stay open and don't provide adequate security. I love the fact that this page has snaps to keep it closed. They also provide shape to the bag depending on how you would like to wear it. 
5. Price
This bag currently retails for $1,250 USD. This is a great price in comparison to other same sized canvas tote bags in this category. I was looking into the Christian Dior tote bag but for the price and the design of the canvas I knew I would get much better usage out of this tote. Not to mention the price, I can't see myself spending over 3K for a canvas bag from any brand. That's just my two preference of course. I just know I will be able to use this bag each and every day if I choose to.
Overall this bag is a perfect day to day bag. It works well as a work bag and great as a travel bag. Compared to the other tote bags on the market I feel this one gives you more bang for your buck. It can be worn with almost every outfit and occasion. And styled multiple ways. Just imagine how cute this bag will be on the beach with a large floppy hat and a nice tropical drink. So chic, and I can't wait.
Here is where you can purchase the same tote,
https://rstyle.me/+Fg-pbfTKIw2FT9iHIodU3A
In Black
https://rstyle.me/+QBJm8RQ6vD4aB1bfEIi5Qw
If you're interested in learning how I save money to afford my luxury Items, I will include my previous blog post explains how HERE.