On my way to work one Tuesday morning, I stopped at the post office and there was a long line. As I stood in line there were a few people in front of me, two of which kept turning their heads to stare. I smiled in return as my casual greeting then after a few times it became a bit uncomfortable. I couldn't understand why they were staring at me. In my mind, I wanted to believe I just looked fabulous in my work attire however if I'm truthful with myself I know that on this day that wasn't the case. 
As usual, I'm wearing all black. I was just as casual as they come. As I made my way to the checkout counter the postal worker smiled at me and then said what are you wearing? I immediately became self-conscious as my initial thought about my outfit choice came rushing back into my mind. I asked her "What do you mean"? Insert the Chimere ain't the one face! She responded by saying "Your perfume! What do you have on? It smells heavenly". I answered, Oh I'm wearing Baccarat Rouge 540 and that's when I knew then I was going to have a great day. 
You Got What?
The scent of the day was my newest purchase, Baccarat Rouge 540 Eau de Parfum. I have been eyeing this brand for a while and finally made the plunge. Listen, I don't regret a thing and in fact, I wish I purchased it sooner. I am not an expert in the fragrance community by any means but I am an expert in people. If I walk into stores and restaurants and turn heads that's an indication that I made the right decision with this purchase. This was not a blind per se. I had a small sample from a friend and then I tried a few dupes as well. More on that in today's video review below.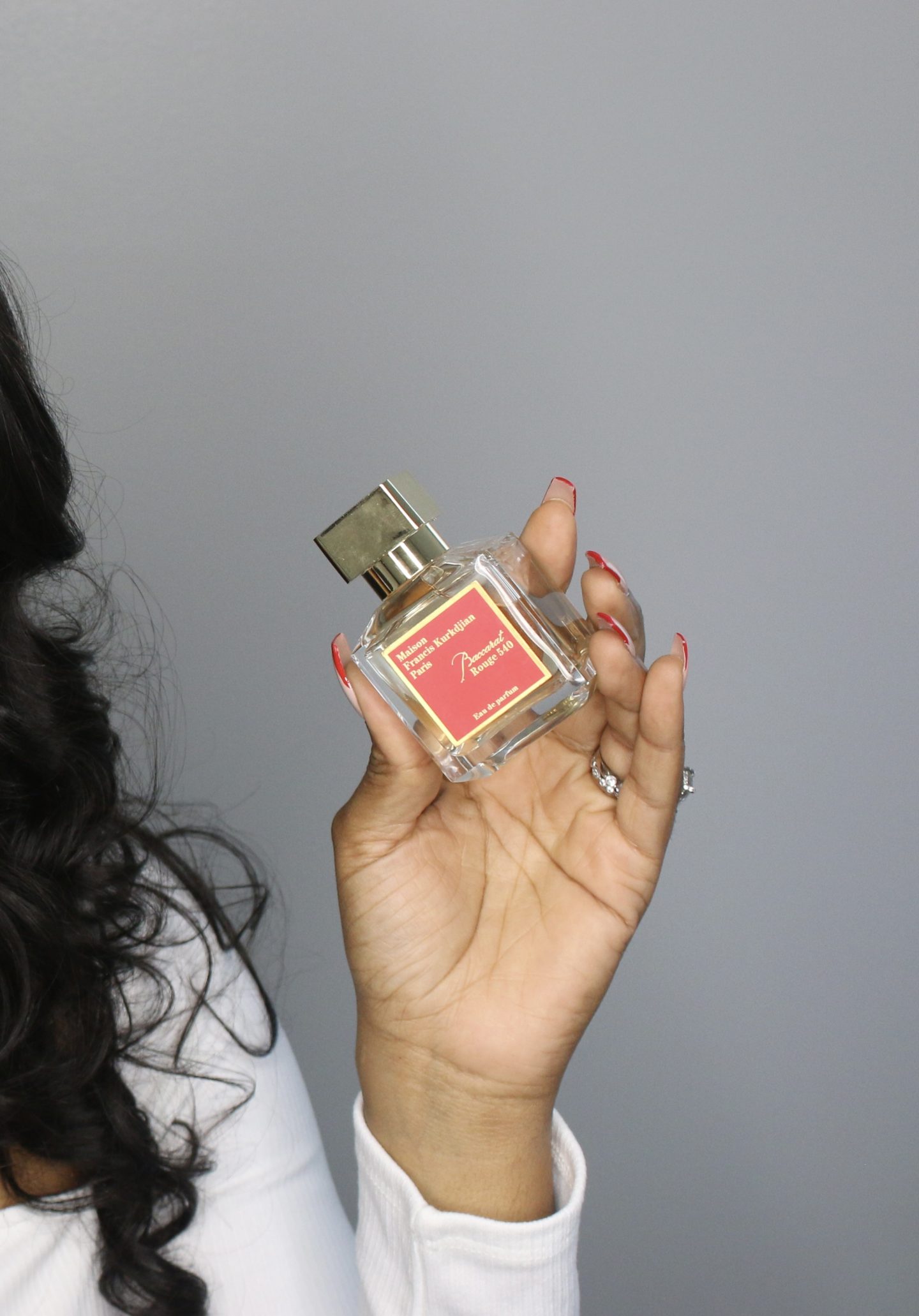 Price
Baccarat Rouge currently retails between $180 – $575 at Bloomingdales. I picked up the 2.4 oz bottle which retails for $300. Here the thing, before I purchased the actual Eau de Parfum I purchased the scented body oil. I did this for a few reasons and will go into this more in-depth in today's video. If you're looking to spend a fraction of what I spent, it's a much watch. 
This is deemed a unisex fragrance, and I have a few friends who actually share this scent with their spouses. I'm not sharing lol but if you would like the larger 6.8 size bottle is a much better buy. I noticed this size is also on sale more often than the smaller sizes and saves you money over time. I will go into this a bit more in the video below. 
Do Or Don't
As I mentioned earlier the first day I wore this perfume I got tons and tons of compliments. After I left the post office I went into a convenience store to grab some water and I had a few people offer compliments as well. Additionally, as I entered into work compliments continue for the duration of the day. Talk about smiling. It wasn't like I had never worn perfume before. I couldn't understand why this one, in particular, had so many people walking up to me asking me what I was wearing. I'm not complaining if anything it put a huge smile on my face. It felt great to know that I was seemingly irresistible to so many.
 Do I recommend you purchase perfume, absolutely. This has been the best buy of 2020. Honestly, the return on my investment at this point is 100%. I can't believe I waited so long to make the splurge but I highly recommend you try either one of my buying methods above depending on your budget and what suits you best. Below I have a video explaining exactly how I purchased my perfume collection and I'm also going to offer a few tips on how to get more bang for your buck. If you don't have $300 to spend find out how to get the scent for much less!
I hope you enjoyed this video style review of the Baccarat Rouge 540 by Maison Francis Kurkdijian. To research this perfume and or purchase you can do so here.
I'm sharing all my beauty favorites this month. Make sure you read up on my favorite skincare products I'm using to fade my acne scars, HERE. Don't say I didn't tell you about these products when you see in on a cover of somebody's magazine lol. Wishful thinking.