You won't believe the deal I scored on my latest niche perfume. I've found a way to score up to 30% off niche perfumes online from a REAL store we all shop at. Yes you read that right. I just found a $325 perfume I've wanted from Sak's for months online for 30% off. Wait until you see who sells it. I'm in complete shock right now. 
A friend of mine was kind enough to give me a ton of perfume samples from his collection. This included scents of Tom Ford, Baccarat Rouge, and many more. I fell in love with a few, including one from Parfum De Marly called Delina. 
Delina is one of their signature fragrances and retails for over $325 for a 2.5 oz bottle. I was going to wait until the yearly sale on Sak's.com. They usually have a black friday sale or after the holidays however I was getting antsy. So I did a little digging. 
I remembered a few years back when I first started collecting perfumes that I found a few designer perfumes online for a heavy discount on Target.com. So I decided to see if there was a possibility they would have niche perfumes available as well. I didn't have any luck on Target's website but I did find it somewhere else. 
Niche perfumes are perfumes that are made by actual perfume companies. In contrast to fashion houses and brands that make scents and name them after celebs or the brand. Example, Gucci is a fashion brand that also makes perfumes, cosmetics and more. Niche brands solely make perfumes so they are typically made with higher quality ingredients by professional perfumers.They also tend to use scent profiles not available in other perfumes on the market . They are one of a kind, unique, and expensive because of it.  
Now where did I get this amazing deal…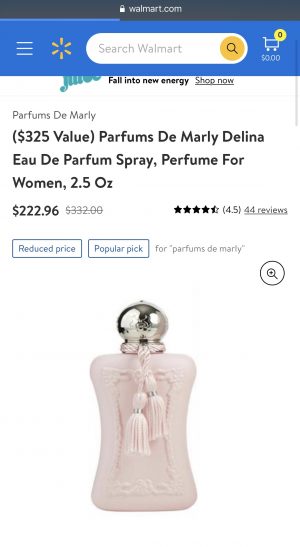 Can you believe it. I was able to get Delina which is one of the most coveted niche perfumes for women 30% off at Walmart.com. They also have Parfums De Marly Delina Exclusif which is also a best seller.
I also came across a few other niche brands on the site. I mean I am really in shock because this is an amazing price. I just placed my order and I will probably do an updated video via Instagram or TikTok. For now I'm going to enjoy the savings and create my list of perfume must haves. Head over to Walmart if you're looking for scents from Parfums De Marly and more. If you have your eyes on anything you may be in luck, I found quite a few on my list. Below I listed a few other options I was looking into as well. Just for price comparison. As you can see the discounts are amazing. Remember, research everything you purchase online. Money does not grow on trees and we need to be sure we are saving as much as we can.