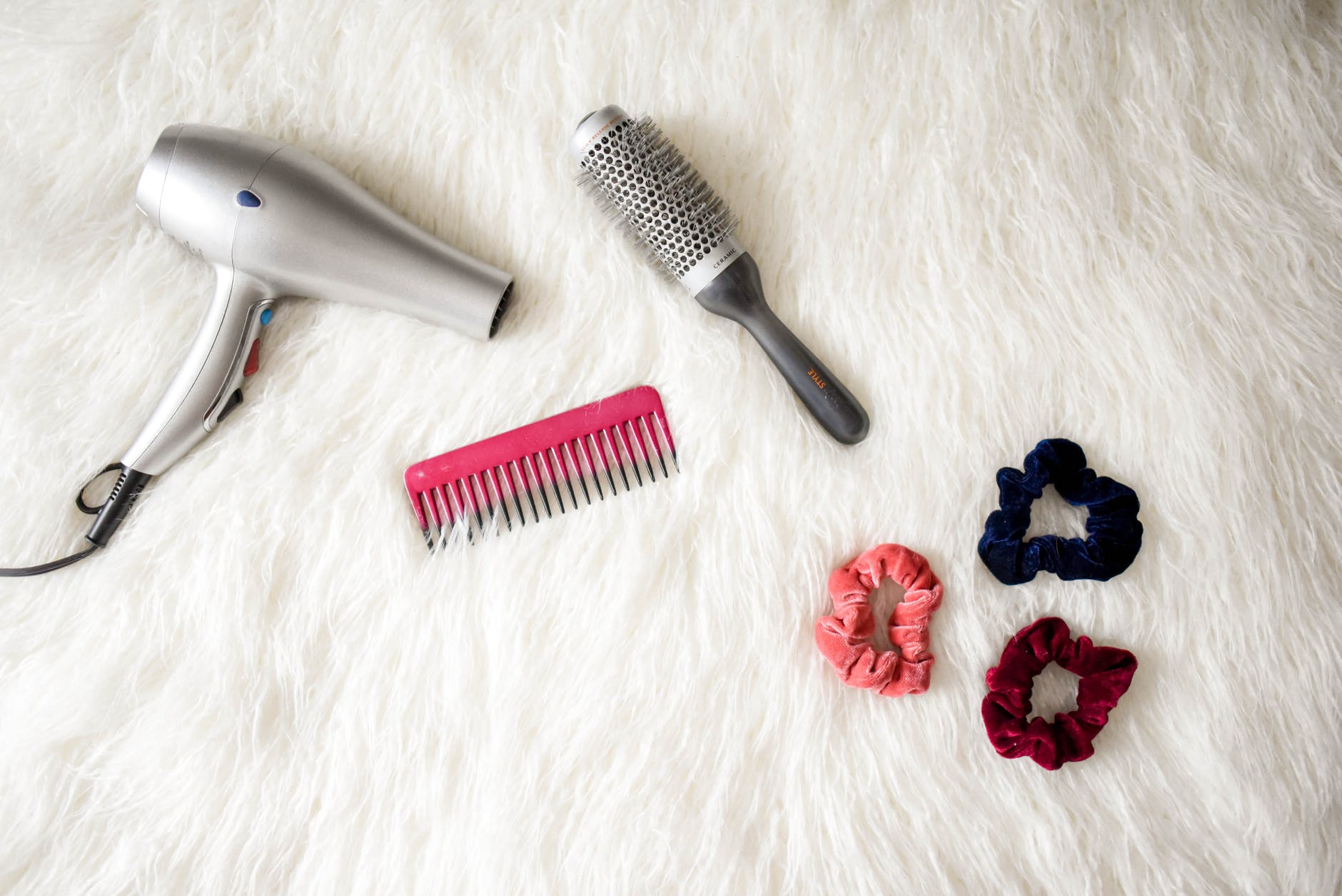 A friend of mine came to me because she wanted to cut back on her salon visits and save money. Times are hard for many and she wanted to achieve the salon look at home. She, like many others, has textured hair and needed a few tips. I wanted to help her learn to blow dry 4C hair without heat damage. 
The key to blow drying 4c hair without heat damage is to stretch the hair while blow drying. Also applying heat protectants with humectants to lock in moisture and eliminate frizz; natural hair oils help to protect seal the hair cuticle.
Tips For A Great Blow Dry
In order to have a great blow-dry, you have to have the right tools. The blow dryer I recommend to all my friends is the Conair Yellow Bird. I recommend this blowdryer in particular because it's lightweight and very powerful. It comes with two attachments which include a nozzle and comb. If you have a hard time using the nozzle with a brush to blow-dry. The comb attachment is your new best friend. It works well with all hair textures, not just 4C hair. In my early salon days, I couldn't afford the blowdryers all my co-workers were using. They were often over $100 and to be honest weren't even that great. Imagine their surprise when I pulled out this bright yellow blow dryer and achieved better results as a new stylist. Let's just say they all asked where I purchased it and ran out to get one.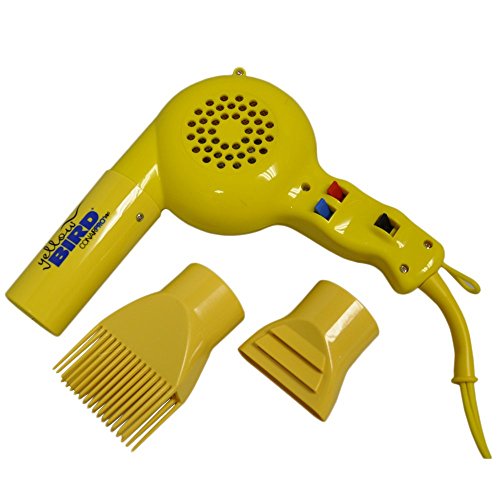 My favorite blow dryer is the Conair Pro SilverBird Turbo Blowdryer. This is the big sister to the Yellowbird I mentioned previously. I love this blower. Yes, I even use it in the salon and at home. It comes with a comb attachment to help blow-dry the hair faster. I have used it in a few of my hair tutorials HERE. This video is a great way to see the blow dryer in action and to see how well it is able to stretch my hair for an amazing silk press or any other hairstyle I choose to achieve.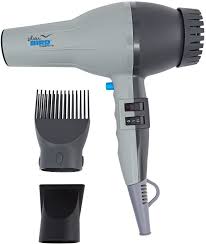 Picture Tutorial
While styling a client's hair I got the bright idea to take a few pictures so that you can see the process of stretching and blow-drying natural 4C hair. I will show you a few steps to achieving a great blow-dry. I'm aware the quality of these photos isn't the best however it was a  busy afternoon. Unfortunately, I decided last minute and on a whim to take pictures for you. I hope that these pictures provide you an idea of how easy it can be to achieve a great blow-dry at home.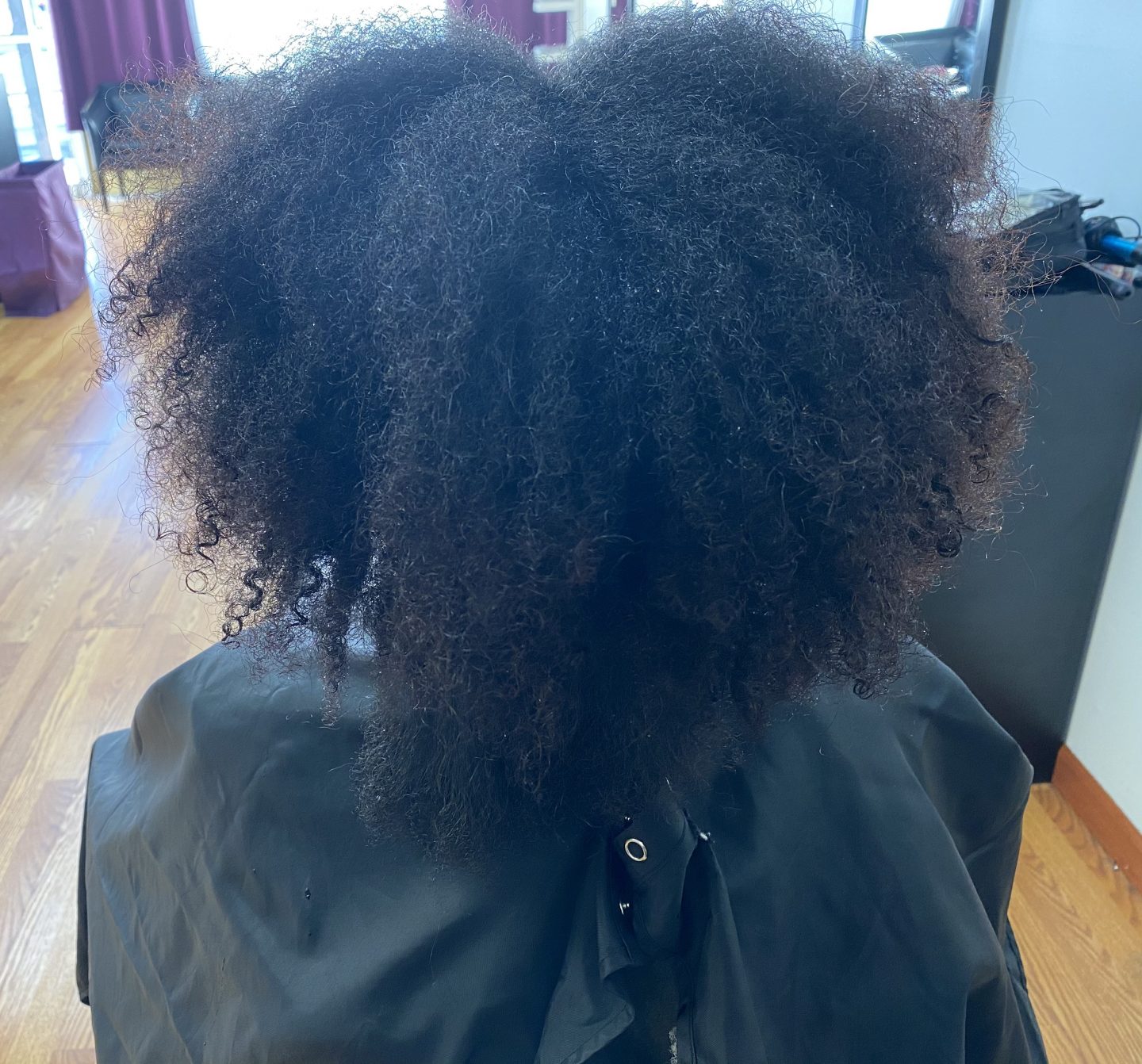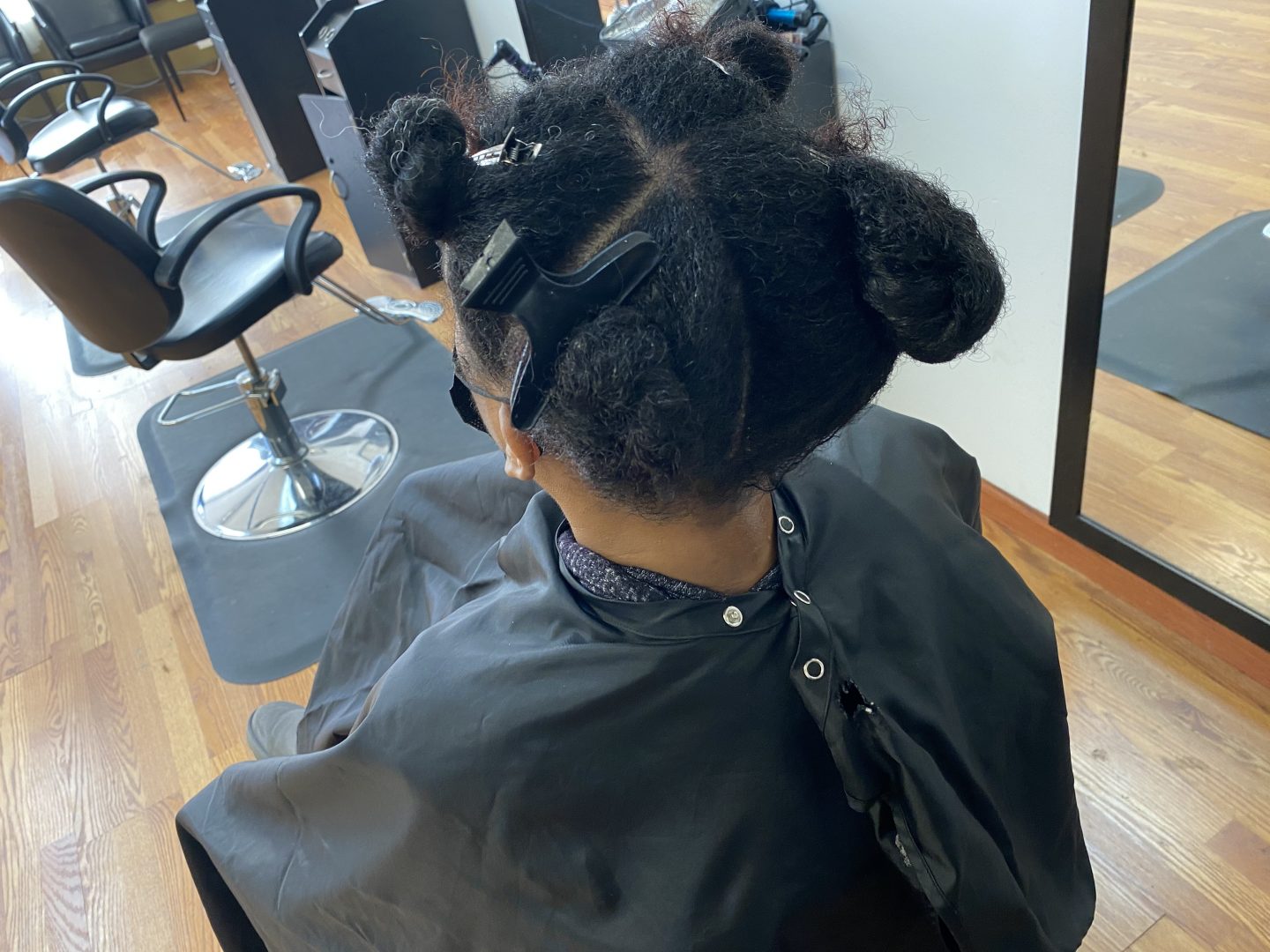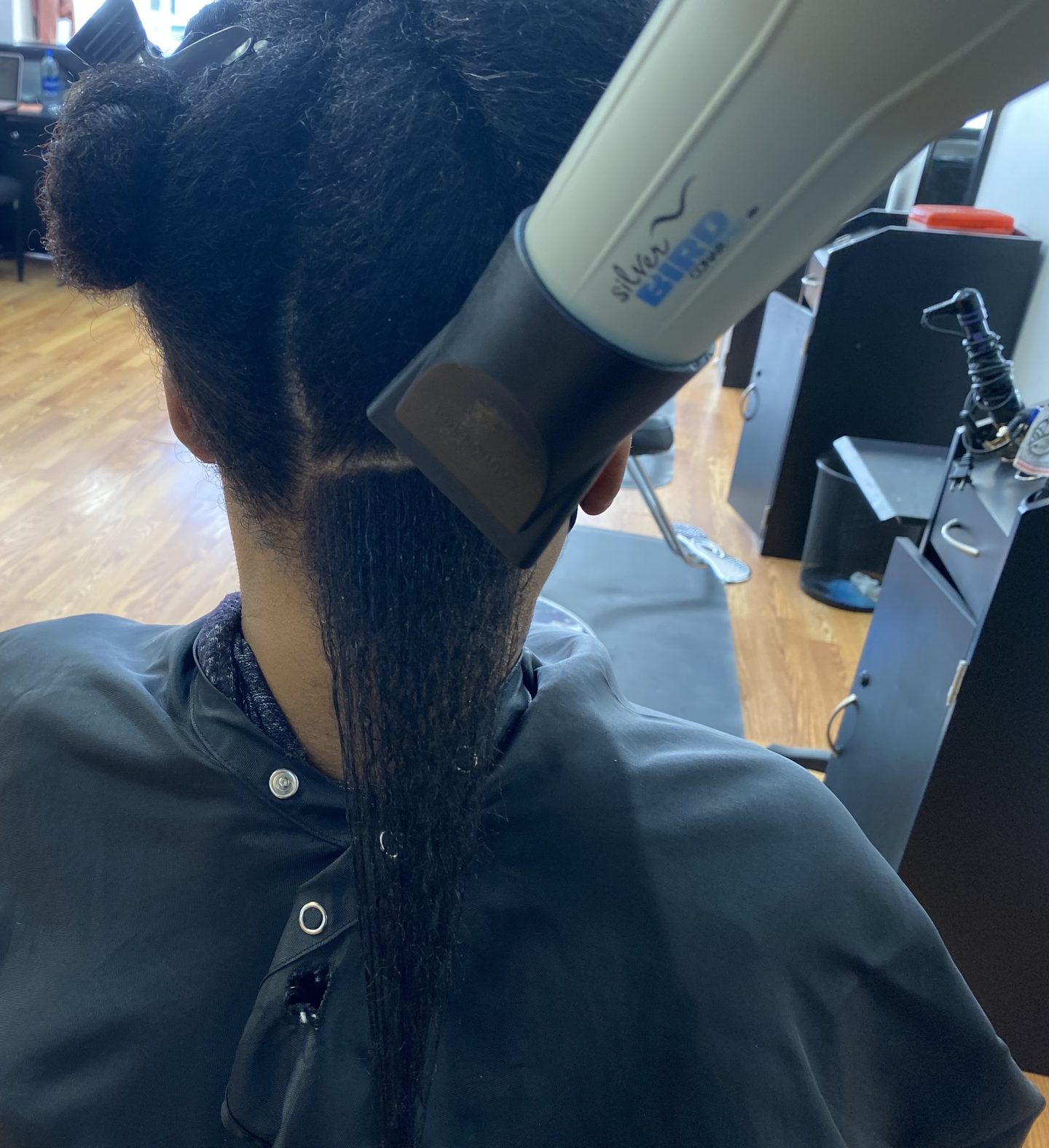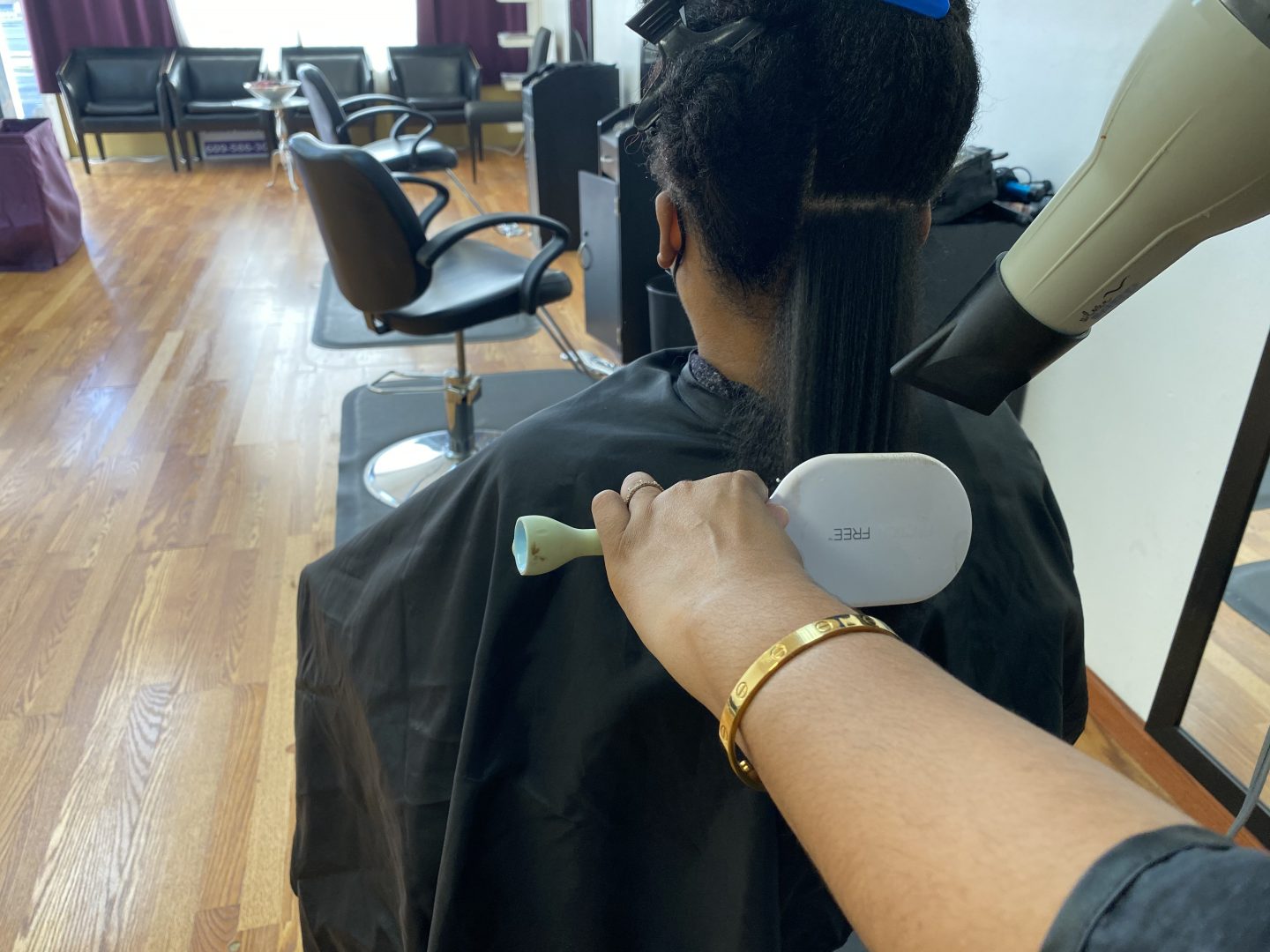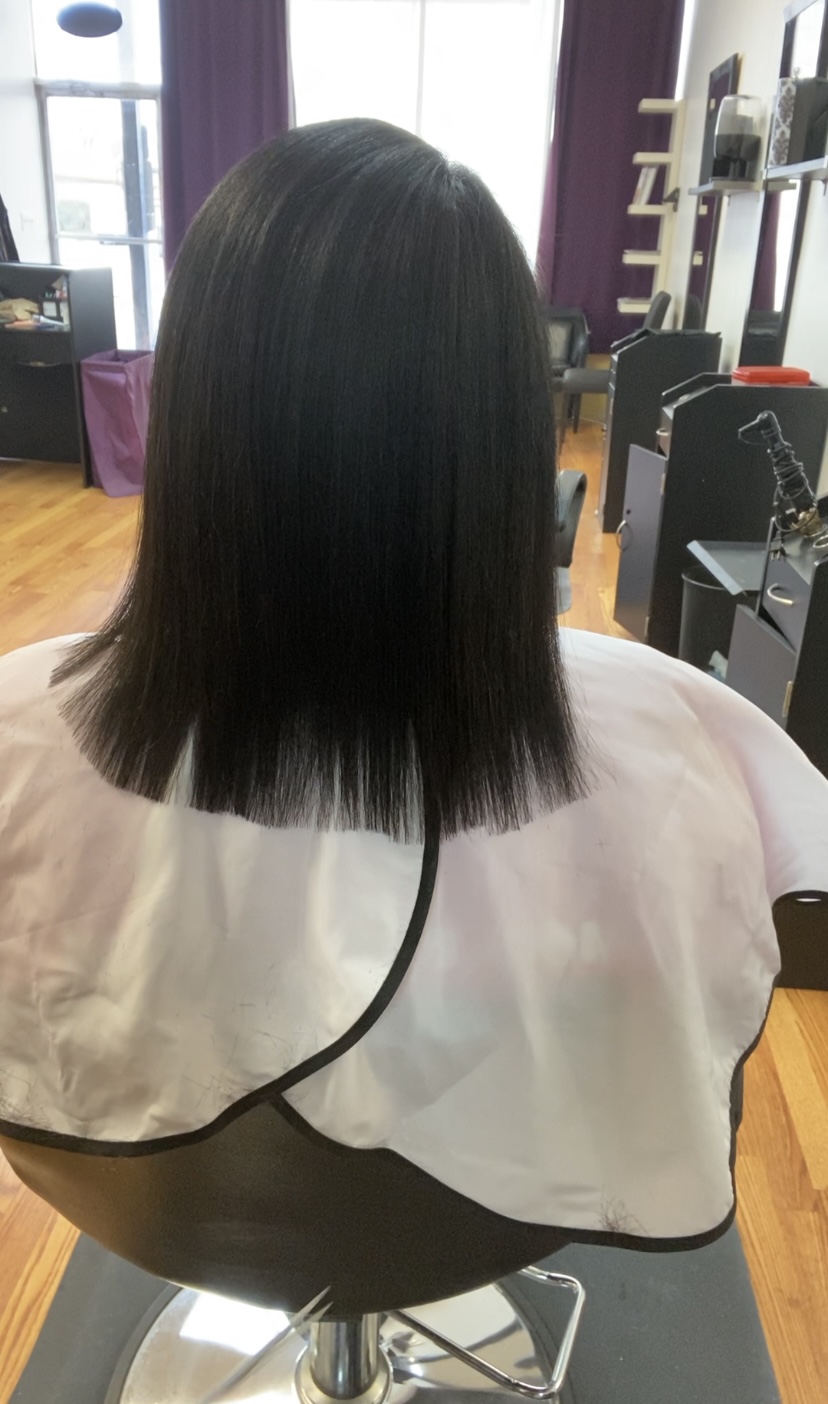 By following this method it will ensure you can retain the length and thickness of your hair. It also prevents heat damage. In order to blow dry 4c hair, you have to be patient and work in small sections. As you can see from the pictures above this client has quite a bit of hair. In order to save time while blow-drying the hair, it's best to detangle first then section off.
The reason I don't recommend this one as often is that it is a bit hotter than the Yellowbird. It is a salon grade and it can be hard to gauge how hot it needs to be for a proper blow-dry. I've seen stylists use this blow dryer wrong and cause heat damage. Additionally, the Silver Bird is heavy. If you are using it on yourself you will notice very quickly how heavy it gets. My arms are conditioned at this point to hold heavy blow dryers but trust it even starts to hurt my shoulders. 
How to stretch the hair
Stretching your hair for a blow dry before and during the process is a great way to avoid excess heat to the hair. 
You can achieve this the following ways:
Twisting 
Braiding
Wrapping with String
These techniques allow the hair to partially dry and the hair to flat on the scalp. This cuts your drying time in half and stretches your curls with added heat or excessive tension. 
Using these methods to stretch your hair I recommend that you use small sections of hair. Also, I recommend that you put your hair into small ponytails at the root and then continue to twist, braid, or wrap your hair. This will allow you to moisturize each section of the hair as well as detangle your hair properly.  Detangling is key to retaining length width in your hair.
What heat protectants To Use
Heat protectants come in many forms. You can use cream, lotion, sprays, serums, and oils. It is hard to recommend a heat protectant without seeing and feeling your hair texture however what I can say is no matter which form of heat protection you decide to use make sure that you thoroughly saturate each strand of your hair. The key to using heat protectants is to be consistent in their usage and to make sure that they are applied properly. In my experience spray heat protectant works best with all hair textures. They tend to be lighter and do not weigh the hair down as much as serums, creams, and lotions. I will list my favorite spray heat protectant below for you to research.
Tried and true heat stylers
Now that you have properly  stretched and blow dry your hair it's time to move on to styling. If you have 4C hair you may tend to style your hair naturally and it's stretched state or you may want to move on to heat styling. 
One of my favorite hairstyles for natural hair is a silk press. This is when we take a flat iron and smooth the hair strands to a silk-like texture. It is a temporary style and once you wash your hair your natural curls will revert back. This is why heat protectants are so important. When doing a silk press on natural hair it requires heat in order to straighten your natural curls. Over the years I have used hundreds of heated tools to achieve this hairstyle. In a previous post, I shared with you my favorite flat irons to use at home and in the salon. I will leave a link here for you to read up on my favorite styling tools to achieve this look. I hope this post helped you learn to blow dry 4c hair. These techniques can be used on all hair types.