Natural hair is versatile. It can be worn twisted, braided, curly, and even straight. Straightening your curly strands is a huge undertaking and I would be remiss  If I didn't recommend you see a licensed hairstylist for this service. I mean, I am a professional here. But for my readers who know their way around styling tools today, I want to recommend a few brands I know will get the job done. Don't get me wrong, if done incorrectly, silk pressing your natural hair can cause your hair to lose its curl pattern, dry the hair out, and cause permanent heat damage. This is why I recommend a professional stylist. They are familiar with flat irons for natural hair and how to use them.
A professional stylist will be better suited to give you a consultation on your hair type. Some hairstylists like myself even show you how to properly silk press your natural hair. Or you can just watch in the mirror. This is also a great way of keeping your head up when getting your hair down. Your stylist will thank you for this lol. The key takeaway is, learning is key, and having resources and recommendations can help save your strands in the long run. Not to worry, you can learn the proper technique to do it yourself at home. If you invest in great tools you won't need to see your stylist as often. Technique and tools are your focus. I will be sharing my favorite flat irons for natural hair.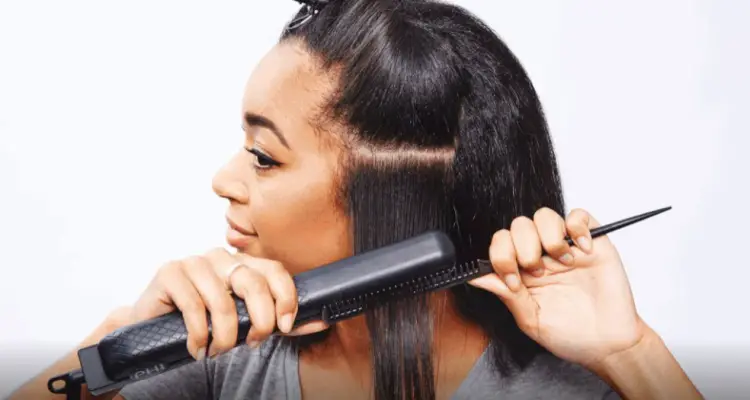 Three Things For A Perfect Silk Press
Silk pressing natural hair requires three things. Patience, a great blow out, and amazing styling tools. The flat iron used for natural hair will be 50 percent of the result achieved. The other 50 percent will be calculated based on the technique used. If you would like to see my previous hair tutorials of me silk pressing my own natural hair I will leave those HERE.  I myself have gone through hundreds, YES hundreds of flat irons in my career.
In my business, I offer this service to my clients daily. I would like to think I have a great understanding of which flatirons make the cut. All of the brands I will be sharing with you today are brands I personally own, have used in the past, and or currently use in my salon to silk press my client's hair. In the event you are new here, I own and operate my own multicultural salon in New Jersey. You can read up on all those wonderful details on my about page HERE.
What should you look for when purchasing a flatiron for natural hair?
If you're in the market for a new flatiron and don't know what to look for, here are some of my must-haves. I will have my favorite flatirons listed below.
Adjustable temperature controls.
Quality plates. Ceramic, Titanium, Ion, etc
Manufacture warranty (trust me on this)
Ability to reach 430F- 450F
The flat iron size should be one inch thick. Size matters.
Outer material is heat resistant.
Not to heavy
Tip: Don't buy the pretty design flat irons. The designs start to burn and turn brown from the heat and usually cost more for the packaging. 
Here my top flatirons for natural hair.
HSI Professional Glider Ceramic Tourmaline Ionic Flat Iron Hair
Express Ion Smooth + XL Styling Iron 1.5 Inch
Paul Mitchell Neuro Smooth Flat Iron
As I stated previously, you have to make sure you take the proper steps to prepare the hair for heat styling. This also includes how the hair is cleansed before styling. Make sure you reference my top shampoos for natural hair HERE.