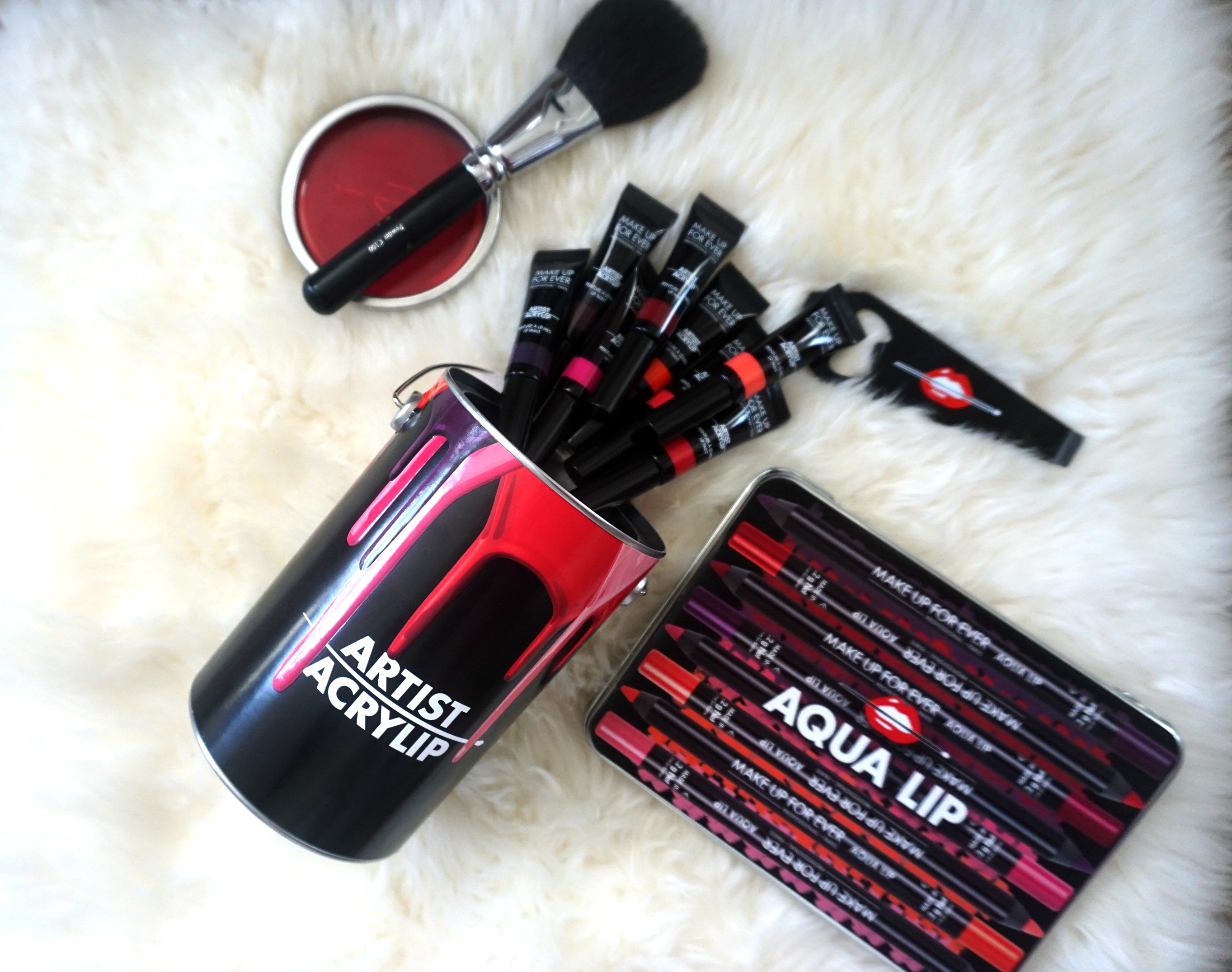 Make Up For Ever has released 10 new lipstick shades in bold beautiful colors. The Artist Acrylip collection features rich build able lip shades for the true lipstick lover. I had the opportunity to try out this collection of lip paints. This collection is unlike any thing I currently own. Where matte lips are still the rave, the Artist Acrylip paints takes the idea of a bold lip to a new level.  
Artist Acrylip First Impressions:
The packaging I received was amazing. The Artist Acrylip paints arrived in a small metal tin reminiscent of a paint can. It also came with a metal can opener. How cute is that! Upon inspection the lip colors were very bright and beautiful. Definitely different from the my day to day colors I usually wear as I'm a nude girl through and through. Once I started to swatch these colors I noticed they are wonderful for creating your own signature colors.  I am all for customizing things so they are unique to you. The one word that came to mind when playing with this collection was Bold. 
Formula:
Perfectly named after its name sake, paint. It has a very similar texture meaning, they are a solid in consistency and not runny. It dries semi matte also like a wall paint which I totally got a kick out of. The entire paint reference was just too cute for me.  It's blends well like all of the other Makeup For Ever lip sticks yet it gives a matte like finish. It's a cross between a lip gloss with no shine and a lip stain. The Artist Acrylip paints are definitely something that has me stepping out of my comfort zone. The formulation is so different from all of my lip colors I currently use but in a good way. I appreciate that the colors are not super matte and that they are not drying on the lips. Which is something that has me shying away from the matte lip craze. Moreover,  I like that this collection is bold and colorful. This formula is so pigmented that it only requires one drop for a even application. Even on lips as full as mine and that say's a lot. One drop was more than enough. I would recommend applying the lip paints with a light hand and if possible use a lip brush for a flawless application.
Shade Selection:
I have a love hate relationship with the colors chosen for this collection. Maybe I'm a bit biased as I normally only wear nudes. I was hoping to at least have one nude shade. Since this formula is quite unique I wanted a shade I could wear everyday. I also would have loved to have a mixing medium such as a white shade. Since the lip paints are able to be customized a shade of white would have really took this collection to a new level. Think 4th grade art class and mixing the red and white to create pink. I get excited thinking about it. I am such a fan of custom anything. You are however still able to create custom colors with the Artist Acrylip collection. I mixed colors 301 and 401 and created a beautiful lip color.
Overview:
I can say with certainty I do not own any colors quite like this. The only downside to this collection that I can say is that these colors do you smear a little bit. When used with the corresponding lip liner you won't have that problem.  MakeupForEver also has a Lip Line Perfector that helps with lipstick smearing which helps with any lipstick, or lip stain. Also worth noting, when I swatched the colors on my wrist they did move a bit. I would also like to mention when I tried to remove the color swatches with make up remover they did not budge, at all. If you take notice to the swatches below you will see my skin is still quite stained from removing the previous swatches. These are very reminiscent of a lip stain. But they have the staying power of any other matte lipstick on the market. Currently retailing for $24 dollars, you can purchase them by visiting Makeupforever.com, also available at Sephora.com.