My mission this year is to really take care of my hair. I mean take great care of my hair. It's funny, like most hairstylists my hair is usually last on the list to get pampered and my goal is to even the playing field. I have been busy in my kitchen creating tons and tons of hair recipes for my natural ladies. My goal is to make haircare more assessable to everyone. With this, I will be sharing some of my recipes here and on my YouTube channel. Below, I'm going to share with you my DIY shea butter and aloe moisturizer. 
Natural hair needs a bit more love and care as it tends to be dry and prone to breakage. So with this butter, you will be able to coat the hair and allow the vitamins from the shea butter to prevent hair breakage. I have been loving the aloe vera scalp oil I created in my previous post. However, I wanted to also create a creamy hair conditioner for my strands. Remember, the key to natural hair is to retain as much moisture as you can. This butter is sure to lock in moisture and hydrate the hair for weekly maintenance.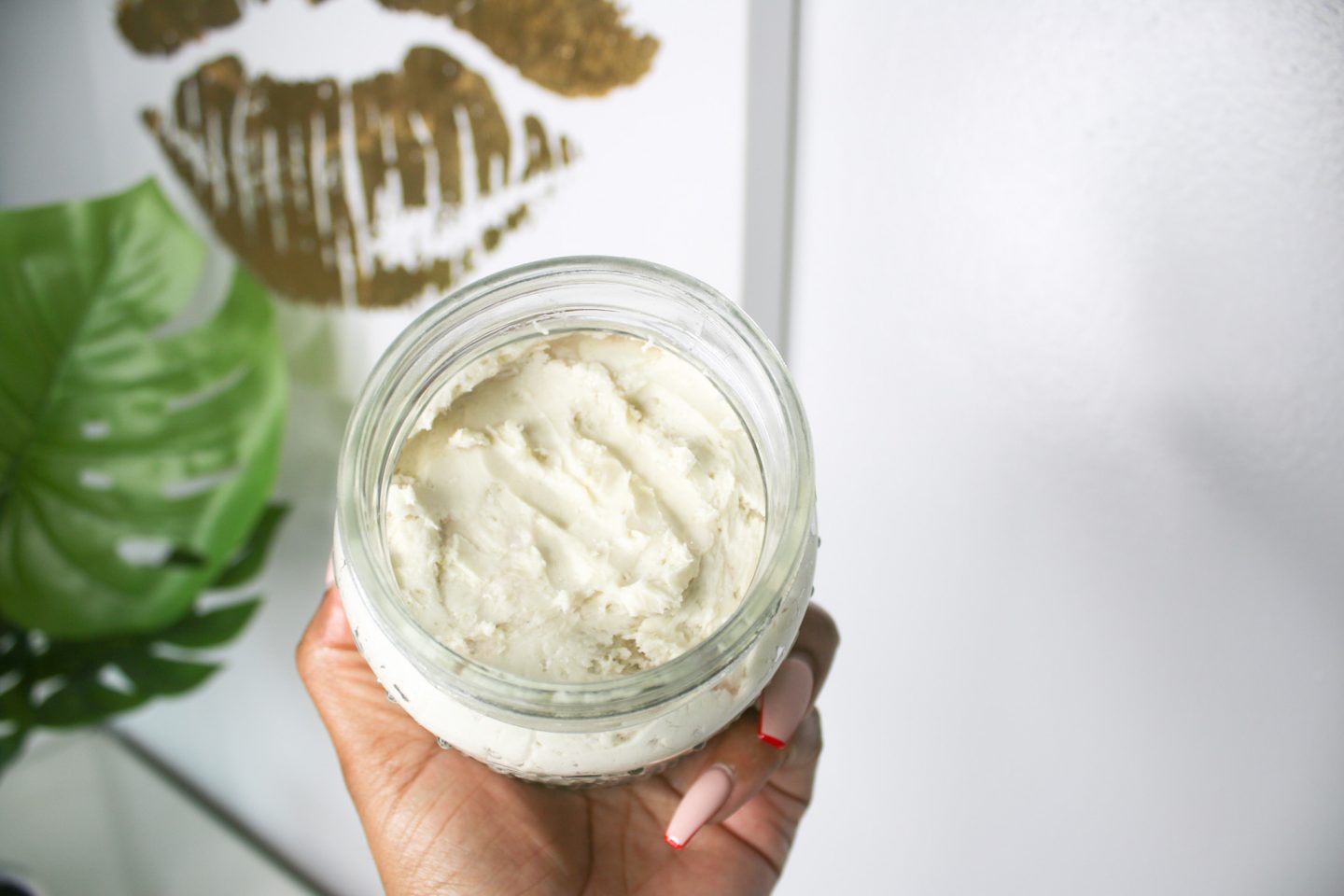 Here are all the products you will need:
Shea Butter: https://amzn.to/3qJ03Bf
Coconut Oil: https://amzn.to/3sL8kGG
Fresh Aloe
Peppermint Oil: https://amzn.to/3nVWs0I
Lavender Oil: https://amzn.to/3sG3dYb
Shea Butter Benefits
Prevents hair breakage
Reduces scalp irritation
Full of essential fatty acids Vitamins A,E,F
Penetrates the hair shaft
Heals eczema 
Antioxidant
Heals the scalp and skin
Aloe Vera Benefits
Aloe Vera does the following:
Soothes redness
Eliminates itchiness
Removes dandruff
Fights bacteria on the surface of the scalp
Heals open sores and scratches
This DIY shea butter and aloe vera hair butter can actually be used on the skin as well. However, I would skip the last few step in this recipe to prevent skin irritation.
Let's Get Mixing
I recommend you apply this butter to your hair at a minimum of once a week. This will vary depending on your hairs texture and moisture levels.
If you would like to make the scalp oil I featured in today's video I also have a step by step tutorial. You can view that article and video tutorial here.