I'm sitting in my salon and a new client came walking in and asked me a really great question. She had been suffering from a dry scalp and needed some help. She asked, how do I remove seborrheic dermatitis at home? 
To remove seborrheic dermatitis you will need to use a medicated shampoo. Ketoconazole shampoo is an antifungal medication used to treat infections on the scalp. Ketoconazole 2% shampoo should be used on the affected area 1-2 times a week. 
What Is Seborrheic Dermatitis
Seborrheic dermatitis is also called dandruff, eczema and psoriasis of the scalp. In infants, seborrheic dermatitis is commonly known as cradle cap. This causes a crusty, scaly, and itchy patch to develop on the scalp. Seborrheic dermatitis is a common skin condition that mainly affects your scalp. It can however be found in other areas of the body. It can appear as red skin and stubborn dandruff. Seborrheic dermatitis can also affect oily areas such as the face, sides of the nose, eyebrows, ears, eyelids and chest.
Dermatitis can go away without treatment however, on the scalp it is more likely you will need to address and treat the problem. You may need many repeated treatments before the symptoms go away completely. The best treatment so far has been using ketoconazole shampoo. 
How to use Ketoconazole Shampoo
Ketoconazole shampoo should be used every time you wash your hair. You will have to get a prescription from your doctor in order to use Ketoconazole shampoo in 2%. because this is a prescription shampoo. I will also give you over the counter options later in this post.  Because I work with clients who have curly and kinky textured hair this usually amounts to once or twice every two weeks. So depending on your hair texture that will determine how often you use the shampoo. 
From my experience, I like to use the first leather with my normal shampoo. This can be a clarifying shampoo to remove product build-up or it could be a shampoo that is designed for color or chemically treated hair. Typically I use Ketoconazole shampoo on the second ladder. Again this is after I have removed products and dirt from the hair. I applied shampoo to the hair working it through from the roots to the ends. then I let the shampoo remain on the scalp for 3-5 minutes.  I rinse with cool water and apply a conditioner. Depending on the severity of the client's seborrheic dermatitis I will then use a scalp oil to soothe the scalp and to prevent a recurrence of dermatitis. 
Before And After Treatment
I wanted to share with you some before and after photos of one of my recent clients who suffer from seborrheic dermatitis. I know these images may be triggering to some however, I want to give you hope that removing seborrheic dermatitis can be done. Even in cases like this where the scalp is completely covered and overgrowth has begun. Again, this is a severe case and this client required a pre scalp treatment before applying shampoo to the scalp. 
These first few photos are after I removed the previous hairstyle which was braids. After removing the braids you can see the scalp is barely visible.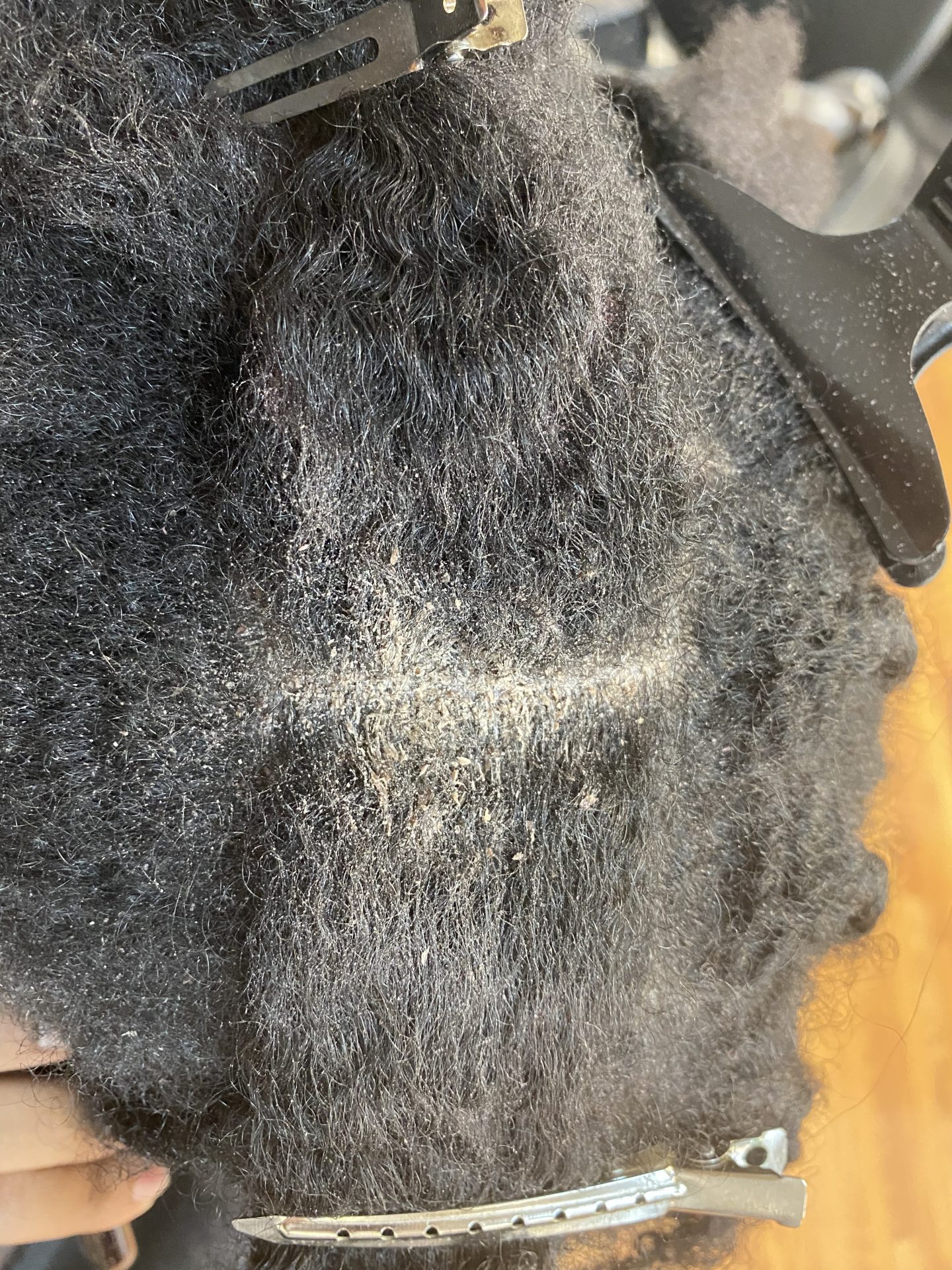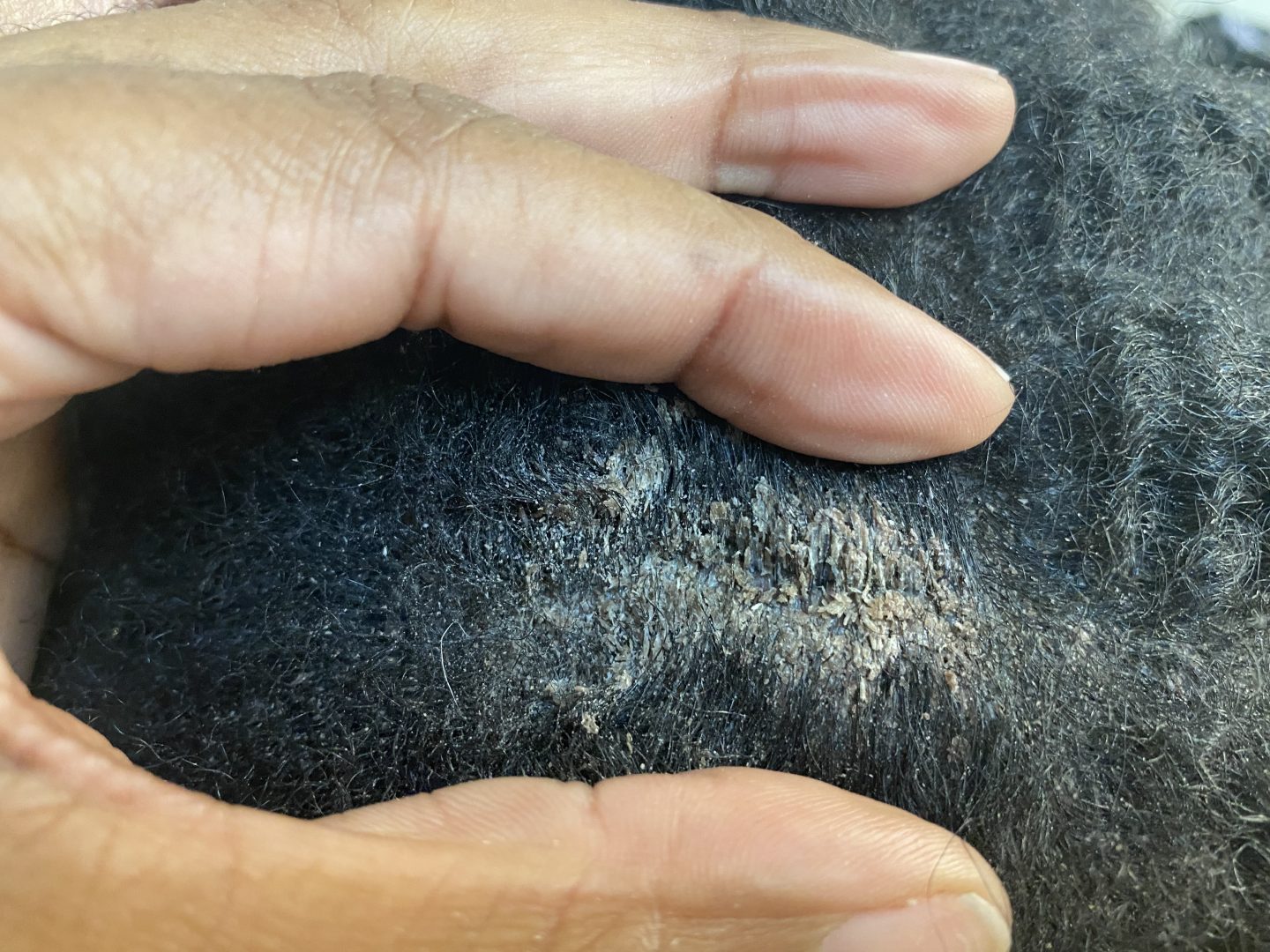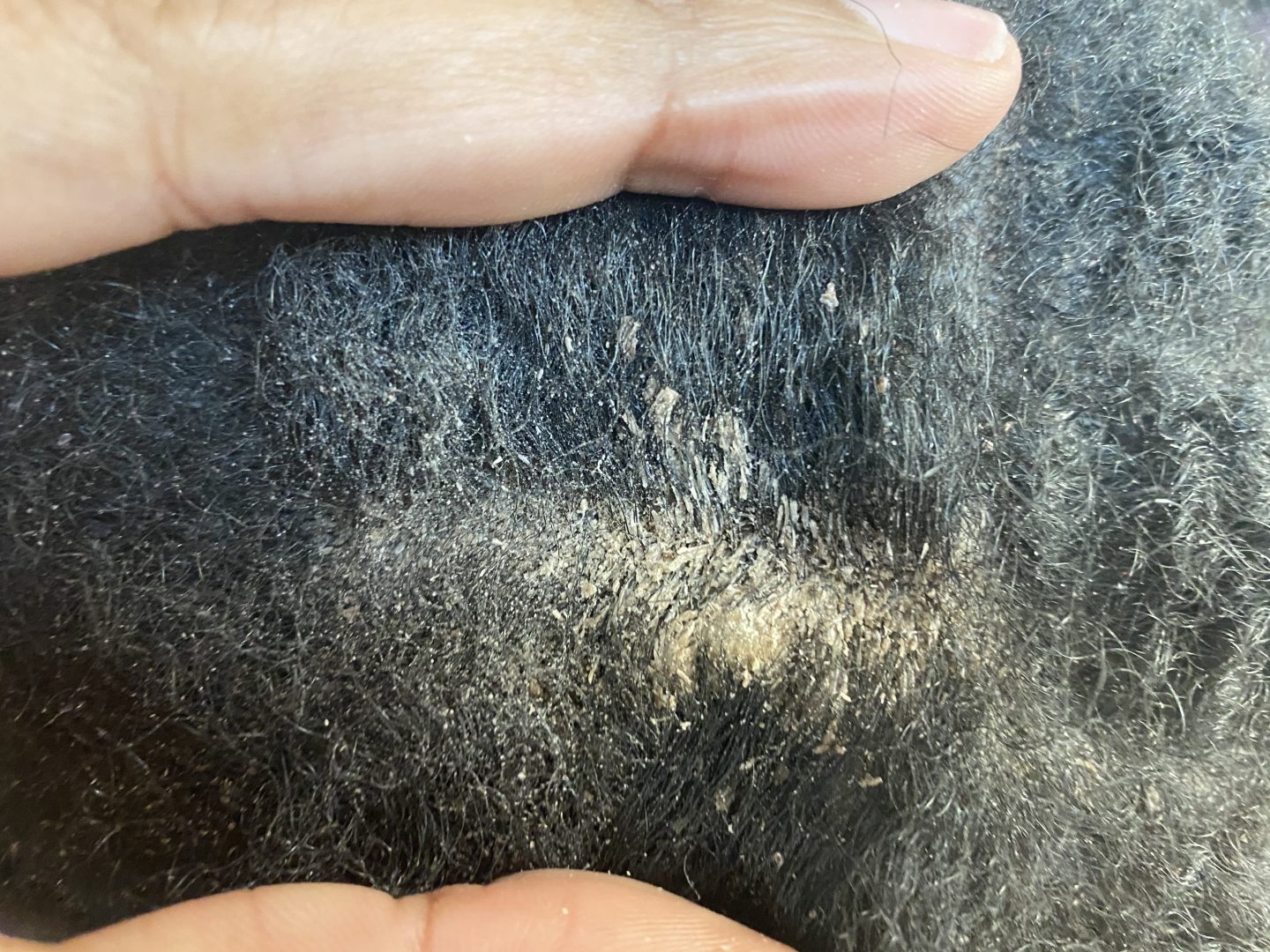 If you noticed from the photos they have quite a bit of scaly patches on the skin. The overgrowth of bacteria on the skin causes the hair to lay flat on the scalp and causes large scaly patches throughout.
 With this client, in particular, she required a light oil to the scalp to help loosen seborrheic dermatitis in order for me to remove it completely from the scalp. Once I  thoroughly sectioned her hair I used a clarifying shampoo to remove the oil that was used and then I followed the steps I mentioned previously. This includes two shampoos using Ketoconazole shampoo 2%.  As you can see from the following photo her scalp is now visible and is healthy pink and free of seborrheic dermatitis.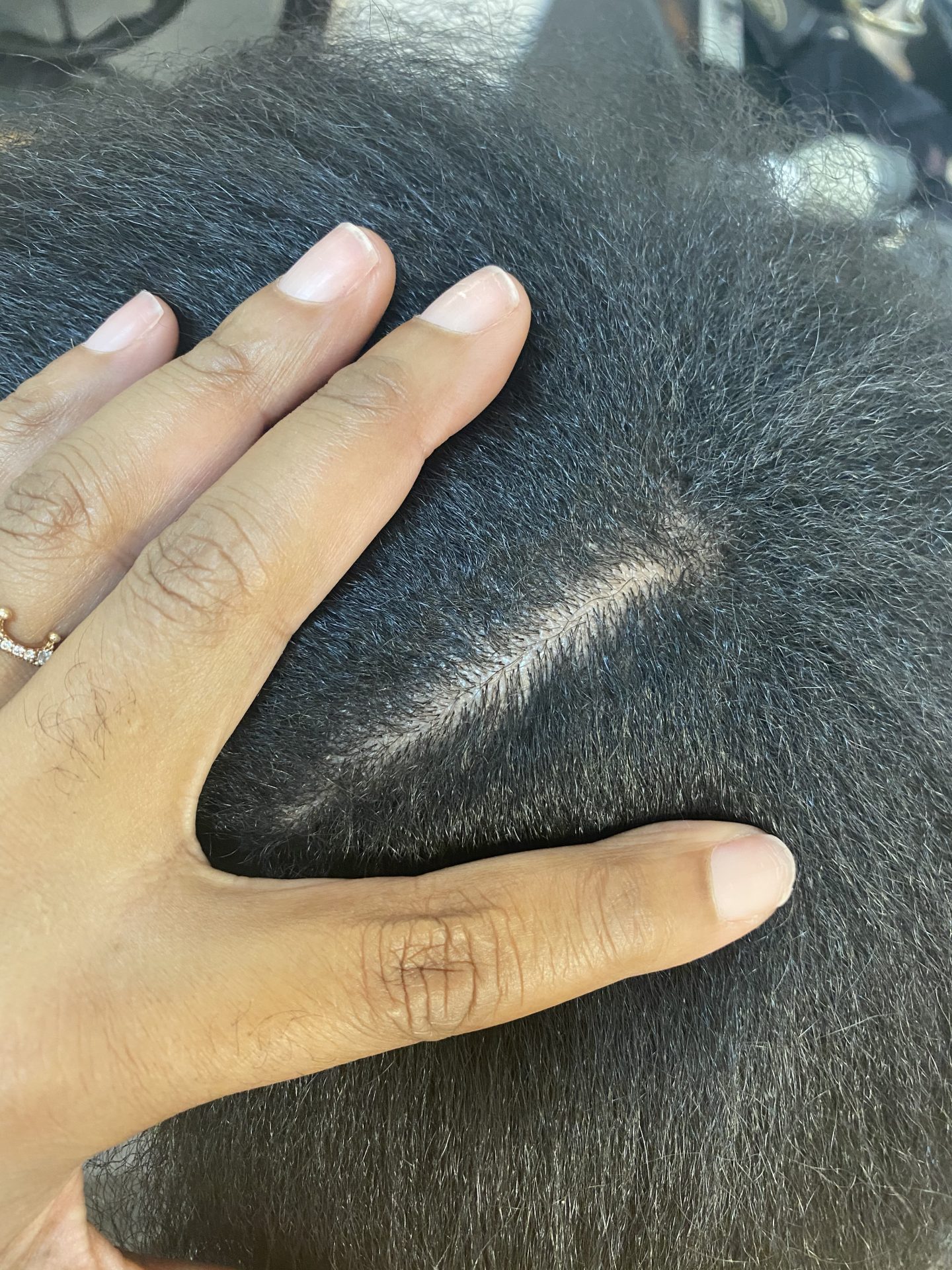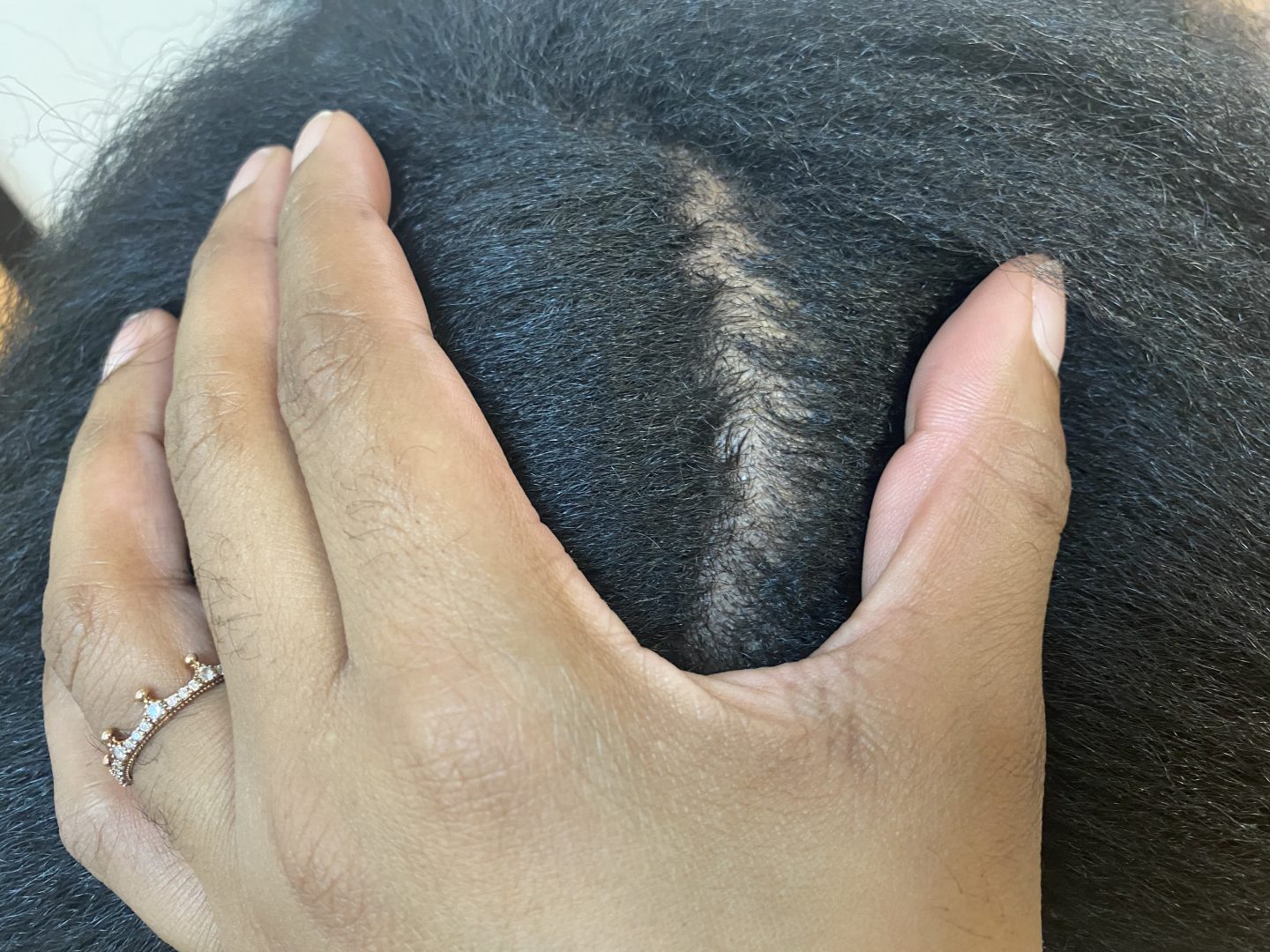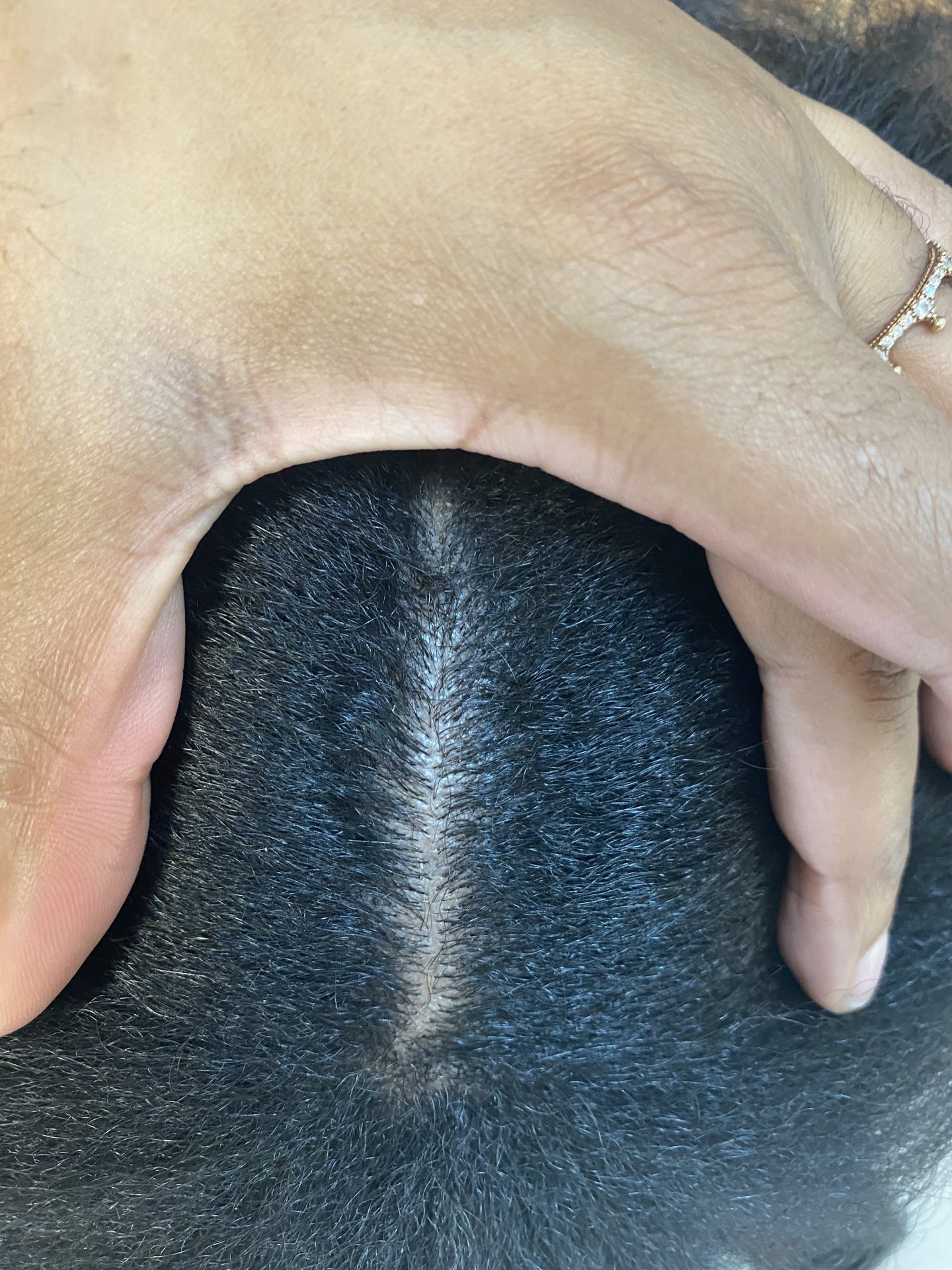 This next step is optional but highly recommended for ALL HAIR TYPES. I apply a hydrating conditioner to the hair avoiding the scalp area. Remember the pores are open and I do not want to apply any products to clog the pores which will result in an overproduction of the seborrheic gland. This is the gland that produces natural oils on the scalp. Once the conditioner has been applied, I allow it to sit on the hair for 15 to 20 minutes then I proceed by rinsing the conditioner out with cool water. Read my tips below for tips on product usage. 
Over The Counter Options
Ketoconazole shampoo is not the only option when removing seborrheic dermatitis from the scalp. From my experience, this has been the number one option so this is why I highly recommended it. You have other brands of shampoo, antifungal creams, as well as pills to help remove seborrheic dermatitis. Some of these options do have side effects such as thinning of the skin and streak and lines appearing on the scalp.
This is the reason I prefer to use shampoo because it carries a lower risk of both of these side effects and is easy to apply. Antifungal creams and lotions aren't suited to be applied to all the hair textures daily. I can speak for my clientele personally when I say curly and textured hair does not do well with applied creams and daily scalp serums. They often leave a residue on the hair and dry out curlier textured strands. 
If you do not have access to a prescription for Ketoconazole shampoo I would like to recommend a few over the counter products that I believe will work effectively. I have used these shampoos with great success and they are readily available. Check your local drug store and ask your pharmacist for more information on products that contain the following ingredients. 
Additional Treatments To Remove Seborrheic Dermatitis
Depending on how mild your seborrheic dermatitis maybe there are other shampoos that have active ingredients to help fight dry and itchy scalp.  I will also list these shampoos as well. The following are shampoos I use daily in my business and on myself. You may notice when the seasons change your skin and scalp start to get dry and flaky. These shampoos help to soothe the scalp. 
Along with these shampoos, there are other over-the-counter products to help remove seborrheic dermatitis. Also, you can find treatments to use prior to your shampoo to help alleviate dry and Flaky scalp as well as treat seborrheic dermatitis. I know firsthand that these products work well when used in conjunction with a hairdryer or a heated scalp cap. if you are not receiving these treatments in a salon setting you can also purchase hooded dryers to use at home to make these treatments more effective. I highly recommend using a hooded dryer when applying products to the scalp as you need to open your pores for these products to work properly. Below I will list the scalp treatments that I have used in the past and currently on my clients to help treat seborrheic dermatitis prior to a shampoo service.
 Natural Remedies
When my daughter started to experience a mild case of dermatitis on her scalp. It was decided to use products that were medicated because of her age and hair type. I wanted to remove the flakes from her scalp and help to soothe the itchiness. She often scratches her scalp to the point she creates scabs. One of the things I decided to do was create an aloe vera gel. I knew that if I applied it to her scalp it would help to heal the skin, alleviate the itchiness, and help to remove dandruff.
In this video tutorial, I will show you how I create this aloe vera gel. This is also a great product to use when detangling textured hair. If you have small children like myself this will make wash day so much simpler. Because there will be no tears from the tangling and the product feels great on the scalp.
What NOT To Do.
When you have dermatitis there are a few things that you should not do when trying to heal the scalp. My number one recommendation would be to stop the usage of any product that has alcohol in its ingredients. Alcohol tends to dry out the scalp and cause irritation to inflamed skin. This will include hair sprays, hair gels, some brands of hair color, and other styling products. I also no chemical treatments. This includes hair color, relaxers, or perms.
Here's A Tip: If the first ingredient is alcohol throw the product in the trash immediately. Even if you do not have seborrheic dermatitis alcohol as the key ingredient is not good for the hair. 
I hope that this post helps you find ways to remove your Seborrheic dermatitis. If you follow the steps I mentioned above I'm confident that you will see results after your first hair wash. Also using the products I mentioned above. I would love for you to leave your feedback below. If you are looking for more hair care tips I will also leave more resources below. 
The Best Shampoos For Natural Hair|10 Reasons Your Edges Are Thinning and Breaking|How To Make Rice Water