I have raided my beauty closet and salon dispensary to bring you the best deep conditioners and mask for naturally curly hair. These products are sure to give you proper PH levels, moisturize, and leave you with healthy, shiny hair. Even if your hair isn't curly, you may be in need of conditioning treatments to help stop shedding and breakage this list is for you.
The best deep conditioners and masks for naturally curly hair will have the ability to moisturize, hydrate, and define the hair. It will provide natural luster and slip to the hair and make styling more manageable. Here are the top 20 conditioners and hair masks for natural hair. 
I have personally tried all the conditioners on these lists and offer them with services in my salon. So I can vouch for their validity. Some affiliate links are used throughout this post however if you've seen my YouTube videos you have seen me use them on my hair.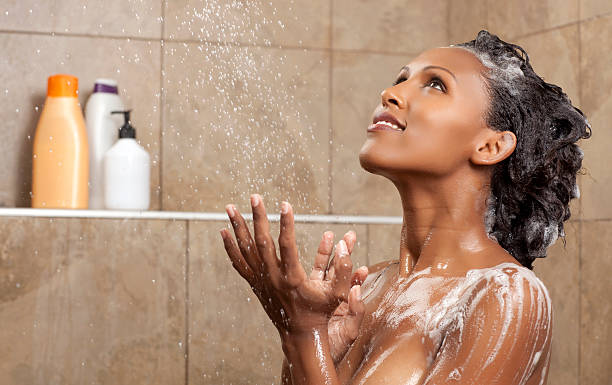 Top Ten Best Deep Conditioners 
Top Ten Hair Mask
How To Prevent Dry Hair
 Try to look for some products with Dimethicone. Dimethicone is often found in all of the best deep conditioners on the market. This ingredient will sort of coat your hair shaft and really helps to protect it so that moisture doesn't escape.  In addition to rinsing with cool water. More on that topic later in this post. Many of us believe that washing our hair more will help keep the hair healthy when in fact it actually dries the hair out. Try not to use heavy soaps and shampoos to wash your hair and minimizing don't wash your hair every day. I have a complete list of hydrating shampoos HERE. Wash your hair every third day or bi-weekly depending on the texture.
Conditioning is a very important step to really keep the moisture in your hair but you don't have to spend a lot of money on conditioners. There's a lot of at-home products things you can find in your pantry to put moisture back in your hair. Look for any of those really oily products like coconut oil,  jojoba oil, avocado, egg, butter, and olive oil. All these things are really wonderful for moisturizing and they can really help to retain the moisture in your hair. 
Best Practices
Trim Your Ends
So many are a little fearful of cutting their hair. Trimming your hair is important because it removes split ends. If you allow split ends to remain it will slowly move up your hair shaft. Thus extending the damage. I recommend you trim your hair at least every 8-12 weeks. Especially if your hair is color or chemically treated. The longer you wait to have your ends trimmed the more your stylist will have to cut in order for your strands to look healthy again. Trust me, you do not want this to happen. 
Comb Conditioner Through For Even Saturation
In order for your conditioner to work properly, it must be applied correctly. Once the hair is thoroughly shampooed and detangled you can apply the conditioner of your choice. Section the hair then apply the conditioner from root to tip. Once the conditioner has been applied, take a wide-tooth comb, and make sure each strand of hair is saturated. This is the keep to a great conditioning treatment. Follow the instructions listed on the package for treatment duration. 
Use A Heated Cap
Most conditioners work best when the cuticle of the hair has been opened. This can be done with warm temperature water and or a heated cap. By sitting under a hooded dryer will allow the conditioner to penetrate the hair shaft to moisturize and repair. If you don't have a hooded dryer you can create a heated cap using a warm towel and a plastic cap. Click here for a video tutorial on how to deep condition at home. 
Rinse Conditioner In Cool Water
To seal in the moisture you want to rinse the conditioner in cool temperature water. This will lock in moisture and hydration and help with the luster of the hair. You don't need the water ice cold just not warm enough to open the cuticle. Remember, we are trying to lock in the moisture at this point. 
Tip: If the hair feels like wet noodles you likely still have product left in your hair. Yes, the conditioner will soften the hair but not to the point of feeling like silk. Please be mindful of this when rinsing out your products. 
Moisturising Ingredients To Look For:
Water
Aqua
Cetearyl alcohol 
Cetyl Alcohol 
Stearyl alcohol 
Stearic acid 
Glycerin(e)
Glycerol
Glyceryl triacetate
Urea
Palmitic acid 
Oleic acid 
Polyquaternium
Propylene glycol
Sorbitol
Alpha hydroxy acids
Pyrrolidine carboxylic acid 
Lactate 
Conditioning Mask Ingredients To Look For:
Wheat protein 
Amino acids
Collagen 
Cholesterol 
Keratin 
Panthenol
Soy protein 
Milk protein
Animal protein 
The best deep conditioners work in conjunction with great shampoos and a consistant wash routine.