Vitamin C for the skin has been such a miracle ingredient for me. I have shared with you all my journey of dealing with acne, acne scars, and hyperpigmentation due to pregnancy. Vitamin C along with a change in my diet has completely transformed my skin for the better. I mean a complete 180. Today I want to discuss the benefits of vitamin C for the skin and teach you how to incorporate vitamin C into your nighttime skin routine for optimum result. Please note, you will not see results overnight. With a little patience, you will see amazing results.
What is Vitamin C
Vitamin C is also known as ascorbic acid.  It is a water-soluble nutrient found in some foods. In the body, it acts as an antioxidant helping to protect cells from damage caused by free radicals and UV damage. Free radicals can build up and contribute to the development of health conditions such as cancer heart disease and arthritis. Vitamin C also helps to protect the immune system from cardiovascular disease and is also used in prenatal health. When using vitamin C for the skin it helps with collagen production. This is possible due to the thickening of the dermis of the skin which diminishes fine lines and it gives you a firm and youthful look. 
This is where we get to the meat and potatoes. The goal of skincare is to improve and or preserve the look and feel of the skin. You should have a clear understanding of ALL the products you are using on your skin.
You should know what these products will do, how to mix and match, and what products to avoid. If you are an all-natural ingredients type of person, vitamin C can also be utilized best by ingestion.
 Vitamin C can also be found in the following foods.
 Cantaloupe
Orange juice
Broccoli
Red cabbage
Tomato juice
Kiwi
Red peppers
Benefits
The biggest benefit to vitamin C usage on this skin is that it helps to promote collagen production. Rich in antioxidants, to help fight the free radicals within the body and skin. The most beneficial usage I've gotten from vitamin C has been the prevention of dark spots on my the body. I have been using vitamin C for years to help fade the brown and dark spots from my skin and also to help with collagen production.  My before and after photos are proof that vitamin C works.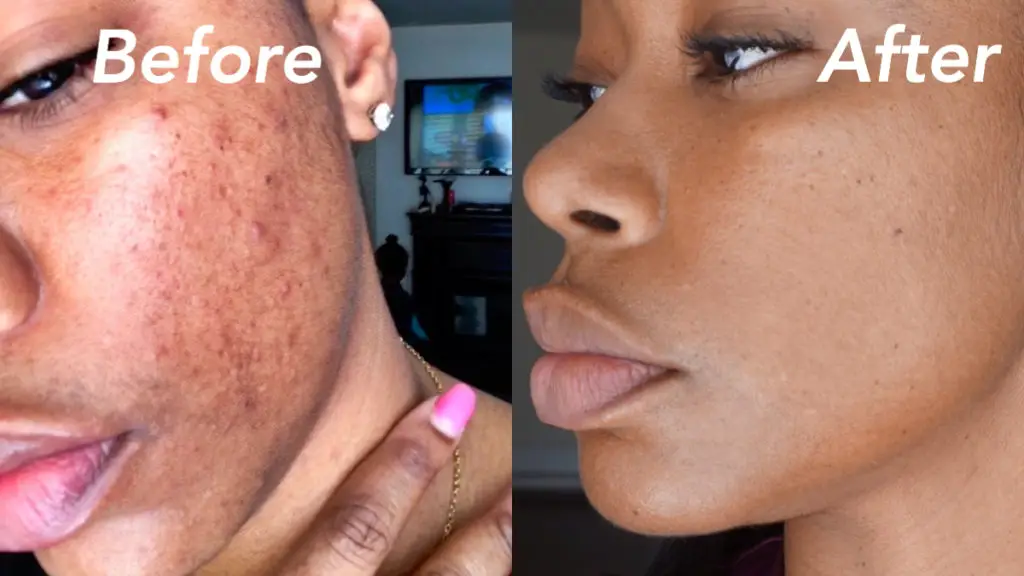 Best Practices
The way that I have incorporated vitamin C into my skincare regimen has been two-fold. The products that I use under my makeup to prep my skin are infused with vitamin C. I have a video here showing you how I apply these products to my skin during the day. And for my nighttime skin routine, I like to incorporate the use of facial serums and under-eye creams.  With any skincare regimen, it is best to always use an SPF to protect your skin from UV rays from the sun as well as protect your skin when using topical medications.
 Below I have my updated nighttime skin routine. In this video, I will be showing you how I incorporate my vitamin C products into my skincare regimen to maintain an even skin tone. Although the brands that I use may change from time to time, the way in which I incorporate vitamin C into my skincare routine does not. 
My Favorite Vitamin C Products
The vitamin C I started off using has been by Pixi Beauty. I use a wide range of their products and this was my first introduction to vitamin C. Over time I have evolved into the current products that I used today those products are by Dermalogica. I will list the products that I am currently loving that contain vitamin c.
Here are some other great products I highly. I've personally used these products with great success. I recommend you research the ingredients before using them with other ingredients.