I like to make things easier for myself when I travel. Bringing along all my styling tools and attachment tends to be a bit much at times so I went on the hunt for a blow dryer that travels well and gets the job done. Let me tell you why the Revlon One-Step Paddle is the best blow dryer brush on the market. 
The Revlon One-Step Paddle Brush is the best blow dryer brush on the market. This is because it saves you time, is temperature-controlled, and easy to use. This blow dryer brush is lighter than most hair dryer brushes available and is able to blow all hair textures.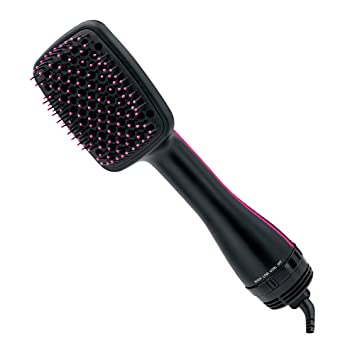 How To Use The Revlon Blow Dryer Brush
If you are looking to stretch your hair while blowing. Or have never used a paddle brush to blowdry I would recommend that you do the following. Start by sectioning clean hair. I have a complete list of my most recommended shampoos and deep conditioners for all hair types listed here. I recommend sectioning the hair into four sections. Apply your favorite heat protectant to the hair. Then start from the back take a small subsection. Apply the paddle brush on the ends of the hair and work your way up towards the roots. If you have straight or fine hair you will have the ability to start from Roots and work your way down. However, starting from the ends of the hair will help to eliminate tangles and also help prevent hair breakage. 
If you are looking to create volume using this paddle brush I recommend to blow dry your hair in the opposite direction in which you want to wear it.
So if that means you would like to wear your hair with a part on the right section your hair to the left and then flip it over once the hair is dry. This will create volume and also help straighten the hair at the roots. 
 Another way to create volume using this paddle brush would be to flip your hair upside down and brush your hair downward. Since your head is facing down all of your hair is being blow-dried at a 90-degree angle. This will create volume once you flip your head back up and is also a great way to blow dry your hair fast. 
If you are looking to create volume and blow-dry your hair at the same time. The Revlon Round Roll Brush blow dryer is also a great option. It's a one-stop-shop when blow-drying your hair because you do not need a roll brush and blow dryer, it's all in one.  The reason I believe the paddle brush is best is that it can be used on all hair textures. Although the roller brush is also a great option. Textured and curly hair will have a hard time using that brush. It can also be a bit cumbersome if you are not used to using a roller brush on your hair. Besides that, it still has all the great and had the same great features that the paddle brush has to offer it just comes in a simpler design.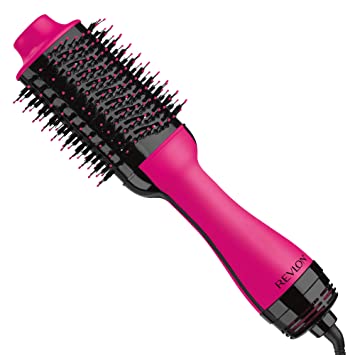 What Products Work Best
When using any heated styling tool I highly recommend that you use a heat protectant. Heat protectants are made up of humectants to lock in moisture and eliminate frizz; natural hair oils help to protect seal the hair cuticle.
Heat protectants come in many forms. You can use cream, lotion, sprays, serums, and oils. It is hard to recommend a heat protectant without seeing and feeling your hair texture however what I can say is no matter which form of heat protection you decide to use make sure that you thoroughly saturate each strand of your hair. The key to using heat protectants is to be consistent in their usage and to make sure that they are applied properly. In my experience spray heat protectant works best with all hair textures. They tend to be lighter and do not weigh the hair down as much as serums, creams, and lotions.
Does It Work On Curly & Natural Hair
For curly and natural hair I recommend that you detangle and section your hair off prior to using this blow dryer brush. Curly and natural hair tends to tangle more frequently and detangling prior to use makes using this brush a lot faster. In addition, I  highly recommend you use a heat protectant also when using this brush. I have a full list of my favorite heat protectants listed below if you are unsure which brand you should try. 
Curly and naturally textured hair tends to be dryer than most textures so applying a leave condition is also recommend.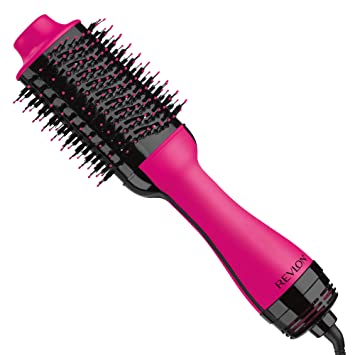 My Final Thoughts
I highly recommend this blow dryer brush for all hair textures. I think this blow dryer brush works best on textured hair because it allows the hair to stretch while your blow-drying. It makes it easier to work in small sections. You are able to still achieve volume while blow-drying. The hair and the temperature controls allow you to cool and seal the hair while blow-drying. My recommendation for fine and straighter textures would probably be the roller Brush. I feel as though that will give you a little more volume and you won't have to use a curling iron once you finish blow-drying your hair. 
Revlon products work really well in conjunction with your heat protectant and leave-in conditioners. I will list my favorite products below that work in conjunction with the blow dryer brush of your choice. As well as my favorite styling tools to create the perfect hairstyle.  If you would like to get more information on my favorite shampoos for natural hair I will list those below. I also have a post where I talk about my favorite deep conditioning products. This includes a deep conditioner and hair mask to repair and hydrate the hair.