I purchased the world's largest beach hat. Why you may ask, I though it was funny actually. Turns out, I was right!
What happens when you purchase the world's largest beach hat? Well I would definitely say you will get tons and tons of looks and stares in public. Inquiring minds want to know, what's up with this hat. Over the weekend I took a short trip to Miami Florida just to unwind and relax for a bit. Knowing I wanted to spend most of my time on the beach so I decided I needed a new beach hat. I recently did a post featuring some inexpensive food options on the beach here, so check that out if your looking for a beach vibe on a budget. I went online and I didn't really see anything that I liked. I thought about getting  a beach umbrella instead. When I looked at the prices and compared it to the hats I previously looked up in I realized that I can have the best of both worlds. This is when I decided I wanted the world's largest beach hat that would also pair as an umbrella. 
It wasn't as hard to find as I initially thought. I started my search on Etsy and was amazed to find such a large selection of beach hats that were the size I was looking for. I knew it would take a few weeks to arrive because it would be shipped from outside of the country, so I decided to order a month before my trip. When my hat arrived three weeks later at my house I was astounded by the size. I could not believe that this hat was as large as it was. It was definitely the world's largest beach hat. It came wrapped like a mini burrito and all I could do was laugh. As extra and over the top as I am, I  was still shocked at how large this hat is. 
This is when I decided to record my experience. Seriously, I just could not stop laughing. I thought this was the funniest thing that has ever happened to me. I shared this experience on my Tick Tock account and as many of you have seen that video has now gone viral. At the time of this blog post that video has now received 2.4 million views and I am happy to say that I have millions of people laughing alongside with me at how large my beach hat is. Social media is just the best. 
If there is one thing that I have always set out to do, it would be to put a smile on other people's faces and to laugh a bit. So, this entire experience has brought me so much joy.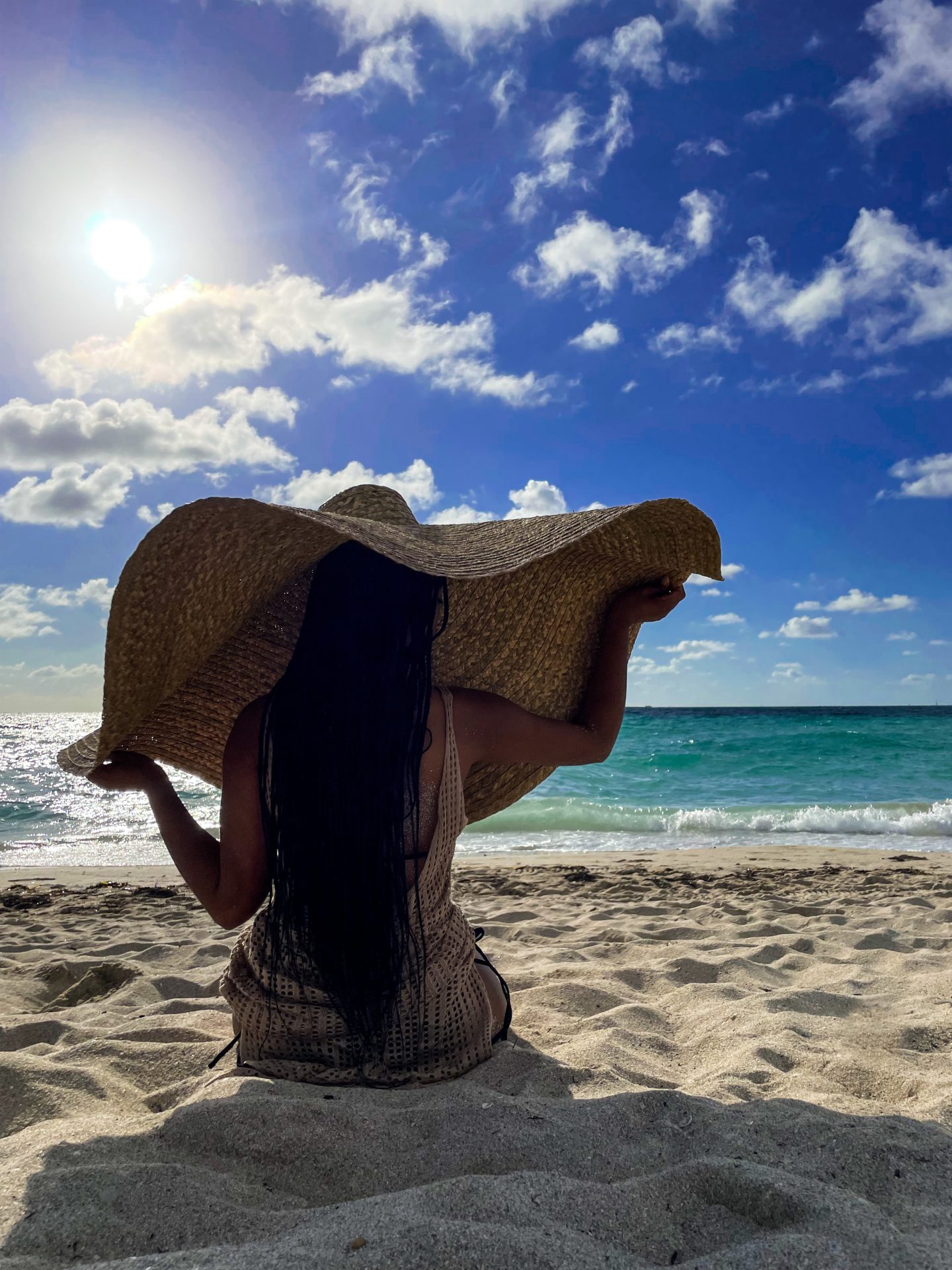 Packing
One of the many questions that I received from this experience has been how did I pack such a large hat to prepare it for the airplane. Since this hat is so large I decided to package it the same way it arrived to me, which is like a burrito. Using a bit of creative licensing by packaging my hat like a chipotle burrito. I folded it in four places and rolled it up to place it in my carry-on luggage tote. I also made a Tick Tock video showing you how the tote was placed inside of my bag. There was also a bit of a compare and contrast as a young lady who was also in the TSA line had a straw hat on her luggage as well. You were able to compare the size of traditional hair with the size of my hat. It is extremely huge in comparison. So funny to see. 
Once on the plane I was able to lay my carry-on tote in the overhead bin compartment horizontally so that my luggage would not get smashed and my hat and would not have too many creases in it.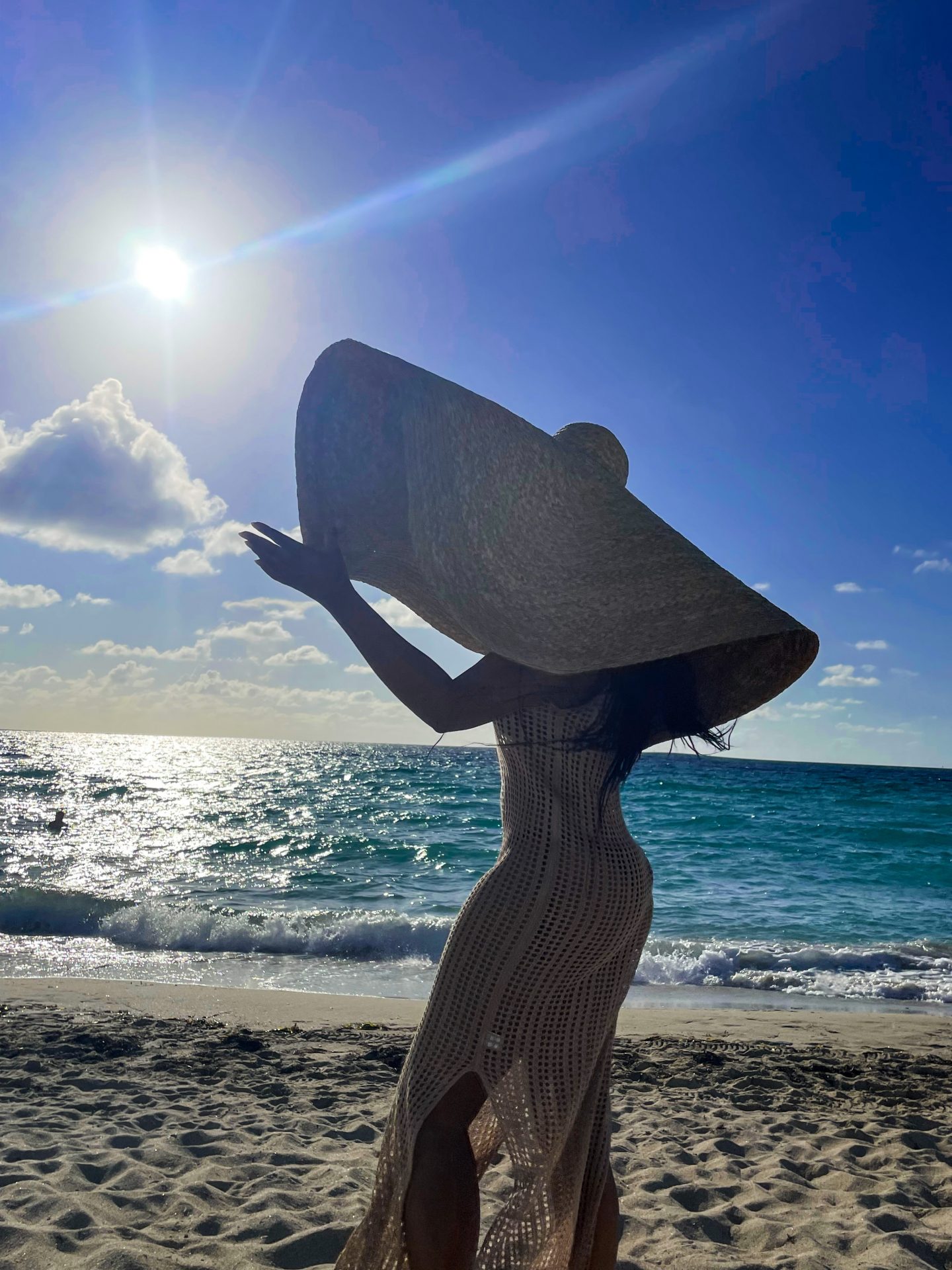 Preparing for The Beach
Since I did have my hat folded in luggage for a few hours I knew that I would have a few creases in the head. So, in another Tick Tock video shown here, I show the process of me steaming the hat and preparing it for the beach. I wanted to take as many pictures as I could wearing the hat so that you can get an idea of the amount of coverage and sun protection I would receive on the beach.
The process of steaming the hat was pretty simple. All you will need to do is place your iron on medium to high heat. Then place a cotton towel over your straw hat and use the steaming tool on your iron to remove the wrinkles and creases. It took me about 10 minutes to 
Thoroughly iron the entire hat due to the size. Once I was done I simply laid it on the bed to cool down.
On to the beach
Here is when the magic happens. While I was walking onto the beach the amount of people who stopped me to inquire about this hat was astounding. I had absolutely no idea people would take such an interest in a large hat. To my surprise people wanted to order this hat and were asking me if it came in other colors. Who would have thought? Due to the size of the hat and the weather it was a bit cumbersome for me to wear it and take pictures. Since I was seated close to the shoreline and the amount of wind was forcing the head to flop around aimlessly. I did manage to take a few photos wearing the hat. However I still don't believe I was able to thoroughly show you how large this hat is. So, once I got back to my room I took a photo of me standing up while the hat was fully extending it. For size reference I am 5'9 and as you can see this hat is as large as me. 
Sun Protection and Social Distancing
Let's just say I took social distancing to a new level. Because this hat is such a conversation piece, so many people wanted to talk. However due to the massive size of the hat they were not able to come any closer than 6 feet away from me. LOL. 
This is so funny. 
If you are looking for a full proof way to social distance this hat needs to be your number one purchase. Additionally, being able to place my entire body underneath this hat and be fully covered from the sun was a plus. Although I still wore sunscreen on the beach this hat gave me 100% protection from the sun's UV rays. Even though the wind tried to fly my hat away I was able to steady the hat so that it would cover me as I relaxed on the beach for the duration of the day.
I'm going to place a link below to the seller in which I purchased my hair as well as some other options available to you. 
If you decide to purchase this hat please make sure you tag me on social media or use my #ChimereNicole so that I am able to see you rocking your hat.  
Hat/HERE,